19.06.2020 | Original Contributions | Ausgabe 11/2020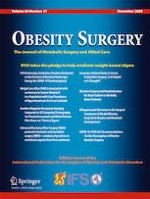 Biliopancreatic Diversion in the Surgical Treatment of Morbid Obesity: Long-Term Results and Metabolic Consequences
Zeitschrift:
Autoren:

Alessandro Bianchi, Alberto Pagan-Pomar, Marina Jimenez-Segovia, José Antonio Martinez-Corcoles, Francesc Xavier Gonzalez-Argenté
Wichtige Hinweise
Publisher's Note
Springer Nature remains neutral with regard to jurisdictional claims in published maps and institutional affiliations.
Abstract
Purpose
In the multidisciplinary therapeutic approach to obesity, bariatric surgery is considered the most effective treatment in weight reduction and the decrease in associated comorbidities. The objective of this work is to describe the long-term clinical and metabolic results in obese patients undergoing biliopancreatic diversion (BPD) according to Scopinaro's technique.
Materials and Methods
Patients undergoing surgery were followed by the same multidisciplinary team in a study period of 15 years (1999–2015). A retrospective study based on a prospective database was designed, where data on the evolution of obesity-related diseases and nutritional parameters were studied.
Results
Two hundred seventy-seven patients were collected; 75.5% were women. The preoperative body mass index (BMI) decreased from 52.5 kg/m2 to 34.9 kg/m2 10 years after surgery. A resolution or improvement of diabetes has been observed in 85.38% of the patients; a decrease in arterial hypertension and obstructive sleep apnea syndrome were in 65.61% and 89.14%, respectively. Throughout the monitoring of the sample, protein malnutrition increased, from 1.8% after the first year of surgery to 4.5% 10 years after the operation.
Conclusion
Even if Scopinaro's technique is beginning to be replaced by other malabsorptive techniques, it can still be considered as an effective surgical procedure in terms of weight loss, quality of life, and evolution of obesity-related diseases. In order to avoid nutritional deficiencies, the operated patients need a strict follow-up and a supplementation adjusted to the technique.