13.02.2019 | Ausgabe 12/2019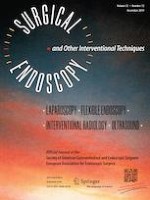 Billroth-I reconstruction using an overlap method in totally laparoscopic distal gastrectomy: propensity score matched cohort study of short- and long-term outcomes compared with Roux-en-Y reconstruction
Zeitschrift:
Autoren:

Yusuke Watanabe, Masato Watanabe, Nobuhiro Suehara, Michiyo Saimura, Yusuke Mizuuchi, Kazuyoshi Nishihara, Toshimitsu Iwashita, Toru Nakano
Wichtige Hinweise
Electronic supplementary material
Publisher's Note
Springer Nature remains neutral with regard to jurisdictional claims in published maps and institutional affiliations.
Abstract
Background
Delta-shaped anastomosis is an established procedure for intracorporeal Billroth-I reconstruction (B-I). However, this procedure has several technical and economic problems. The aim of the current study was to present the technique of B-I using an overlap method (overlap B-I), which is a side-to-side intracorporeal gastroduodenostomy in laparoscopic distal gastrectomy (LDG), and to evaluate the short- and long-term outcomes of this overlap B-I procedure.
Methods
We retrospectively reviewed the medical records of 533 patients who underwent LDG with overlap B-I (n = 247) or Roux-en-Y reconstruction (R-Y) (n = 286). Patients with overlap B-I were propensity score matched to patients with R-Y in a 1:1 ratio. Short- and long-term outcomes of the two procedures were compared after matching.
Results
In the total cohort, anastomosis-related complications occurred in 2.4% of patients with overlap B-I, and 3.2% of those with R-Y (
P
 = 0.794). Morbidity rate, including anastomosis-related complications, and postoperative course were comparable after overlap B-I performed by qualified versus general surgeons. Of 247 patients with overlap B-I, 169 could be matched. After matching, morbidity rate and postoperative course were comparable between the two procedures. Median operation time was significantly shorter for overlap B-I (205 min) than R-Y (252 min;
P
 < 0.001). The incidence of readmission due to gastrointestinal complications was significantly lesser after overlap B-I (2.4%) compared with R-Y (21.9%;
P
 < 0.001). The main causes of readmission after R-Y were bowel obstruction (7.3%) and gallstones (8.0%). Regarding the development of common bile duct (CBD) stones, 11 patients (3.8%) who underwent R-Y were readmitted due to CBD stones, whereas no patients who underwent B-I developed CBD stones.
Conclusions
Overlap B-I is feasible and safe, even when performed by general surgeons. B-I was superior to R-Y concerning operation time and readmission due to gastrointestinal complications.