01.12.2014 | Original Article | Ausgabe 6/2014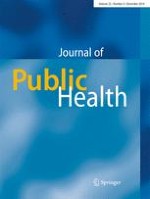 Binge drinking and experiences of victimization among adolescents: findings of a nationwide representative study in Germany
Zeitschrift:
Autoren:

Alexander Loh, Dirk Baier, Carolin Donath, Stefan Bleich, Thomas Hillemacher, Elmar Graessel
Abstract
Aim
Binge drinking in adolescents, a common behavioral problem with far-reaching consequences as shown in international literature, is associated with experiences of victimization. Our aim was to analyze correlations between binge drinking and violent victimization and other potentially traumatic events in a representative sample of adolescents.
Subjects and methods
A survey of 44,610 ninth grade students of different school types in Germany was carried out 2007/2008. Binge drinking, prevalence for bullying, sexual and physical violence and other potentially traumatic events were investigated.
Results
Binge drinking (59.1 % among boys, 48.7 % among girls) correlated significantly with experiences of victimization. The strongest correlations were found for sexual abuse in the case of girls and for physical violence in the case of boys. Bullying by teachers correlated with increased binge drinking comparably for both genders. Bullying by peers as well as a move with the loss of friends correlated with less binge drinking.
Conclusion
Binge drinking poses a challenge to suitable prevention strategies which should affect not only further causative factors and consequences of binge drinking but also forms of victimization. Furthermore, prevention strategies should include approaches to help children and adolescents identify forms of victimization and adverse events and cope with them. Although there are close relations between experiences of victimization and binge drinking, the question as to the cause and effect cannot finally be answered with the data available.