01.12.2017 | Original research | Ausgabe 1/2017 Open Access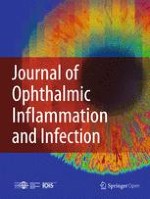 Bioavailability of generic 0.05% difluprednate emulsion in the aqueous humor, cornea, and conjunctiva of New Zealand rabbits after a single dose compared with commercial difluprednate
Zeitschrift:
Autoren:

Arieh Mercado-Sesma, Angélica Contreras-Rubio, Leopoldo Baiza-Durán, Oscar Olvera-Montaño, Mónica Miranda-Robles, José Bonilla-García
Abstract
Background
To determine the concentration after a single dose of generic 0.05% difluprednate and commercial difluprednate in the aqueous humor, cornea, and conjunctiva of New Zealand rabbits, a preclinical study in 72 male New Zealand white rabbits was performed. A single dose (50 μL) of two 0.05% difluprednate ophthalmic formulations was instilled in both eyes. Conjunctiva, cornea, and aqueous humor samples were collected at nine time points over 8 h (four animals per time point). The active metabolite of difluprednate, 17-difluoroprednisolone-butyrate (DFB), concentrations was quantified using HPLC.
Results
Measurable levels of DFB were quantified in all three ocular tissues. After a single instillation, the highest concentration of difluprednate was found between 30 and 60 min in the conjunctiva, cornea, and aqueous humor, respectively. There was no significant difference between both formulations in any tissue at any time point. After 3 h, no metabolites of either emulsion were found in any tissue.
Conclusions
Difluprednate penetrates into different ocular tissues. Generic difluprednate has a similar pharmacokinetic profile compared with commercial difluprednate.