01.12.2018 | Research article | Ausgabe 1/2018 Open Access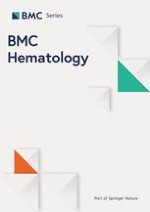 Biochemical and hematological changes among anemic and non-anemic pregnant women attending antenatal clinic at the Bolgatanga regional hospital, Ghana
Zeitschrift:
Autoren:

Benjamin Ahenkorah, Kwabena Nsiah, Peter Baffoe, Enoch Odame Anto
Abstract
Background
Anemia in pregnancy may not only be associated with maternal morbidity and mortality but can also be detrimental to the fetus. A definitive diagnosis of anemia is a pre-requisite to unravelling possible cause(s), to allow appropriate treatment intervention. It is hypothesised that measured hemoglobin (HGB), complemented by biochemical and other hematological parameters would enhance anemia diagnosis.
Methods
This was a cross-sectional study among 400 pregnant women comprising 253 anemic and 147 non-anemic pregnant women, attending an antenatal clinic at Bolgatanga Regional Hospital, Ghana. Venous blood was collected and hemoglobin genotype, complete blood count and biochemical parameters [ferritin, iron, total iron binding capacity (TIBC), transferrin saturation (TfS), C-reactive protein (CRP) and bilirubin] were determined. Thick blood films were prepared for malaria parasitemia, while early morning stool and midstream urine samples were examined for enteric and urogenital parasites, respectively.
Results
There were significantly reduced levels of HGB (
p
 < 0.0001), HCT (
p
 < 0.0001), MCV (
p
 < 0.0001), iron (0.0273), ferritin (
p
 = 0.018) and transferrin saturation (0.0391) and increased WBC (
p
 = 0.006), RDW (
p
 = 0.0480), TIBC (
p
 = 0.0438) and positivity of CRP in anemic, compared to non-anemic pregnant women. Anemic women were associated with increased proportion of hemoglobinopathies (AS, SS and SC),
Plasmodium falciparum, Schistosoma hematobium
and intestinal parasite infections.
Conclusion
Anemic pregnant women are associated with a significant derangement in hematological and iron indices that implicate iron deficiency. This was influenced by hemoglobinopathies and parasitic infections.