14.02.2018 | Original Article | Ausgabe 4/2018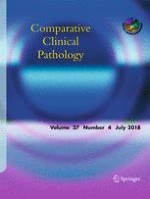 Biochemical and ultrasonographic evaluation of exertional rhabdomyolysis and myositis in draft horses
Zeitschrift:
Autoren:

Mohamed A. Youssef, Maged R. El-Ashker, Eman E. Samaha, Sabry A. El-Khodery
Abstract
The purpose of this study was to evaluate the biochemical alterations in horses with exertional rhabdomyolysis (ER) and those with myositis and to characterize the progressive changes of both diseases by using ultrasonography (US). For this reason, 40 horses with various symptoms of musculoskeletal disorders were studied. Based on the competent case history, clinical symptoms, and in combination with clinicopathological findings as well as ultrasonographic alterations, the investigated horses were allocated into two main groups: ER-group (
n
 = 7) and myositis group (
n
 = 33). Blood samples were drawn from all investigated horses for laboratory assessment. The obtained findings revealed that horses with mild and severe forms of ER had a statistically significant (
P
 < 0.05) high serum enzymatic activity of creatine phosphokinase (CPK), lactate dehydrogenase (LDH), and aspartate aminotransferase (AST), with significant (
P
 < 0.05) low values of serum calcium compared with those of myositis as well as a control group. Horses with severe ER also demonstrated a statistically significant (
P
 < 0.05) high value of blood urea nitrogen, serum magnesium, phosphorus, and potassium, with significant (
P
 < 0.05) low values of serum chloride and sodium compared with other groups. Ultrasonically, it appeared that horses with severe ER have had hypoechoic loss of muscle texture, while mildly affected cases showed small hypoechoic cavities replacing the affected muscles. Small hypoechoic cavities separating muscle fibers were also observed in mild cases of myositis, but fibrinous hyperechoic dots prevailed in severe cases. From the results obtained, it can be concluded that the sole use of US for the diagnosis of ER and myositis in investigated horses was not really conclusive, but a combination of serum biochemical analyses, clinical examination findings, and US could facilitate early diagnosis of the studied diseases.