28.04.2016 | Brief Article | Ausgabe 6/2016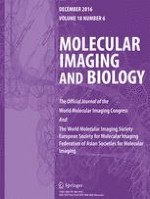 Biodistribution and Radiation Dosimetry of [18F]Mefway in Humans
Zeitschrift:
Autoren:

Jae Yong Choi, Chul Hyoung Lyoo, Jin Su Kim, Kyeong Min Kim, Minkyung Lee, Young Hoon Ryu
Abstract
Purpose
[18F]Mefway is a positron emission tomography (PET) radioligand for quantification of the brain serotonin 1A (5-HT1A) receptor density. The purpose of this study was to evaluate the radiation safety of [18F]Mefway in humans.
Procedures
Six healthy volunteers (three males and three females) were whole-body PET scanned for 114 min after injection of [18F]Mefway (226 ± 35 MBq). Estimated radiation doses were determined by the OLINDA/EXM software.
Results
[18F]Mefway was safe and well tolerated by all subjects. Residence time ranges from 0 (gallbladder) to 0.822 h (urinary bladder wall). While the estimated radiation doses in the reproductive and blood-forming organs were below 13.35–22.87 μSv/MBq, radiation dose in the urinary bladder wall was 471 μSv/MBq. The mean effective dose was 40.23 ± 6.63 μSv/MBq.
Conclusion
For a typical single injection of 185 MBq (5 mCi), the dose will result in 87.1 mSv for the urinary bladder wall. To reduce radiation burden, the bladder voiding can be used before [18F]Mefway PET scan.