01.12.2018 | Research article | Ausgabe 1/2018 Open Access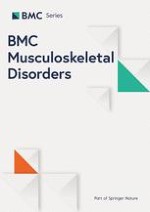 Biologic plating of unstable distal radial fractures
Zeitschrift:
Autoren:

Jae-Man Kwak, Gu-Hee Jung
Abstract
Background
Volar locking plating through the flexor carpi radialis is a well-established technique for treating unstable distal radial fractures, with few reported complications. In certain circumstances, including metaphyseal comminuted fractures, bridge plating through a pronator quadratus (PQ)-sparing approach may be required to preserve the soft tissue envelope. This study describes our prospective experience with bridge plating through indirect reduction.
Methods
Thirty-three wrists (four 23A2, six 23A3, 15 23C1, and eight 23C2) underwent bridge plating through a PQ-sparing approach with indirect reduction from June 2006 to December 2010. Mean patient age was 56.8 years (range, 25–83 years), and the mean follow-up period was 47.5 months (range, 36–84 months). Changes in radiologic parameters (volar tilt, radial inclination, radial length, and ulnar variance) were analyzed, and functional results at final follow-up were evaluated by measuring the Modified Mayo Wrist Score (MMWS) and Modified Gartland-Werley Score (MGWS).
Results
All wrists achieved bone healing without significant complications after a single operation. At final follow-up, radial length was restored from an average of 3.7 mm to 11.0 mm, as were radial inclination, from 16.4° to 22.5°, and volar tilt, from − 9.1° to 5.5°. However, radial length was overcorrected in three wrists, and two experienced residual dorsal tilt. Excellent and good results on the MGWS were achieved in 30 wrists (90.9%). The average MMWS outcome was 92.6 (range, 75–100).
Conclusion
Our experience with bridge plating was similar to that previously reported in the earlier publications. Compared with the conventional technique, bridge plating through a PQ-sparing approach may help in managing metaphyseal comminuted fractures of both cortices with a reduced radio-ulnar index.