01.12.2012 | Research | Ausgabe 1/2012 Open Access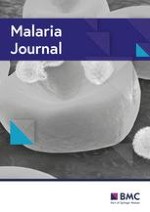 Biological activities of nitidine, a potential anti-malarial lead compound
Zeitschrift:
Autoren:

Jérome Bouquet, Marion Rivaud, Séverine Chevalley, Eric Deharo, Valérie Jullian, Alexis Valentin
Wichtige Hinweise
Electronic supplementary material
The online version of this article (doi:
10.​1186/​1475-2875-11-67
) contains supplementary material, which is available to authorized users.
Jérome Bouquet, Marion Rivaud, Valérie Jullian and Alexis Valentin contributed equally to this work.
Competing interests
The authors declare that they have no competing interests.
Authors' contributions
JB performed the biological analysis, MR carried out the purification, chemical analysis and haem-nitidine interaction experiments. SC gave scientific assistance for parasite culture and synchronization and images in microscopy. ED participated to the elaboration of the manuscript. VJ conceived of the study, participated to its design and to the elaboration of the manuscript. AV conceived of the study, participated to its design and to the elaboration of the manuscript. All authors read and approved the final manuscript.
Abstract
Background
Nitidine is thought to be the main active ingredient in several traditional anti-malarial remedies used in different parts of the world. The widespread use of these therapies stresses the importance of studying this molecule in the context of malaria control. However, little is known about its potential as an anti-plasmodial drug, as well as its mechanism of action.
Methods
In this study, the anti-malarial potential of nitidine was evaluated in vitro on CQ-sensitive and -resistant strains. The nitidine's selectivity index compared with cancerous and non-cancerous cell lines was then determined. In vivo assays were then performed, using the four-day Peter's test methodology. To gain information about nitidine's possible mode of action, its moment of action on the parasite cell cycle was studied, and its localization inside the parasite was determined using confocal microscopy. The in vitro abilities of nitidine to bind haem and to inhibit β-haematin formation were also demonstrated.
Results
Nitidine showed similar in vitro activity in CQ-sensitive and resistant strains, and also a satisfying selectivity index (> 10) when compared with a non-cancerous cells line. Its in vivo activity was moderate; however, no sign of acute toxicity was observed during treatment. Nitidine's moment of action on the parasite cycle showed that it could not interfere with DNA replication; this was consistent with the observation that nitidine did not localize in the nucleus, but rather in the cytoplasm of the parasite. Nitidine was able to form a 1-1 complex with haem in vitro and also inhibited β-haematin formation with the same potency as chloroquine.
Conclusion
Nitidine can be considered a potential anti-malarial lead compound. Its ability to complex haem and inhibit β-haematin formation suggests a mechanism of action similar to that of chloroquine. The anti-malarial activity of nitidine could therefore be improved by structural modification of this molecule to increase its penetration of the digestive vacuole in the parasite, where haemoglobin metabolization takes place.