20.01.2015 | Original Article | Ausgabe 3/2016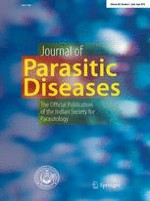 Biology of
Trypanosoma

(

Trypanozoon

)

evansi

in experimental heterologous mammalian hosts
Zeitschrift:
Autoren:

K. K. Misra, S. Roy, A. Choudhury
Abstract
Trypanosoma
(
Trypanozoon
)
evansi
is a causative agent of the dreadful mammalian disease trypanosomiasis or 'Surra' and carried as a latent parasite in domestic cattle but occasionally proves fatal when transmitted to horses and camel. Sporadic outbreak of 'Surra' to different animals (beside their natural hosts) reminds that
T. evansi
may be zoonotic, as their close relative cause sleeping sickness to human being. This haemoflagellate is mechanically transmitted by horse fly and its effect on different host varies depending on certain factors including the effectiveness of transmission by mechanical vector, the suitability and susceptibility of the host as well as most importantly the ability of the disease establishment of parasite to adapt itself to the host's resistance, etc. The course of the disease caused by
T. evansi
is similar to that of human sleeping sickness caused by
T.
(
T.
)
brucei gambiense
. The target organs and symptoms show close similarity.
T. evansi
can successfully be transmitted among unnatural hosts i.e., other classes of vertebrates, like chicken. In transmission experiments, the unnatural hosts may sometimes induce profound changes in the biology of trypanosomes. Hence, in present study the observations are the biology of different morphological changes of
T. evansi
as well as its ability of disease formation within some heterologous mammal viz., albino rat, guineapig, bandicoot, mongoose, domestic cat and common monkey. Blood smears of infected albino rats, bandicoot, and mongoose revealed only monomorphic form. Interestingly, blood smears of infected cat and monkey,
T. evansi
shows slender trypomastigote form and short intermediate form whereas organ smears shows other two forms of haemoflagellate viz., sphaeromastigote and amastigote form. The haemoflagellate maintains a common reproductive cycle in all the experimental heterologous hosts whereas disease symptoms differ.
T. evansi
infected cat and monkey shows nervous symptoms. Infected monkey expresses some symptoms similar to that of human sleeping sickness disease. Thus the paper highlights zoonotic potentialities of
T. evansi
.