01.03.2012 | Knee | Ausgabe 3/2012 Open Access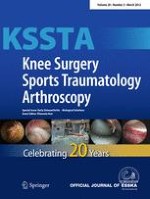 Biomechanical considerations in the pathogenesis of osteoarthritis of the knee
Zeitschrift:
Autoren:

Andras Heijink, Andreas H. Gomoll, Henning Madry, Matej Drobnič, Giuseppe Filardo, João Espregueira-Mendes, C. Niek Van Dijk
Abstract
Osteoarthritis is the most common joint disease and a major cause of disability. The knee is the large joint most affected. While chronological age is the single most important risk factor of osteoarthritis, the pathogenesis of knee osteoarthritis in the young patient is predominantly related to an
unfavorable biomechanical environment
at the joint. This results in mechanical demand that exceeds the ability of a joint to repair and maintain itself, predisposing the articular cartilage to premature degeneration. This review examines the available basic science, preclinical and clinical evidence regarding several such unfavorable biomechanical conditions about the knee: malalignment, loss of meniscal tissue, cartilage defects and joint instability or laxity.