22.08.2018 | Original Article | Ausgabe 4/2018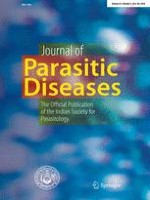 Bionomics of phlebotomine sand flies species (Diptera: Psychodidae) and their natural infection with
Leishmania

and

Crithidia

in Fars province, southern Iran
Zeitschrift:
Autoren:

Mohsen Kalantari, Mohammad Hossein Motazedian, Qasem Asgari, Zahra Soltani, Aboozar Soltani, Kourosh Azizi
Abstract
Phlebotominae sand flies are involved in human diseases, such as leishmaniasis, and cause a considerable number of deaths every year. Besides, some of them have been identified as allergen sources or the potential mechanical vectors related to nosocomial infections. The present study aimed to assess the monthly activity, fauna, and detection of protozoan agents in phlebotomine sand flies using polymerase chain reaction (PCR) in re-emerging zoonotic cutaneous leishmaniasis foci of Shiraz and Kharameh in Fars province, southern Iran during 2016–2017. To determine the monthly activity, sand flies were caught from indoors and outdoors of both studied areas. Afterward, all female phlebotomine sand flies were processed for DNA extraction and PCR assays for
Leishmania
and
Crithidia
detections. During the study, 6975 sand flies of 16 species (eight
Phlebotomus
and eight
Sergentomyia
species) were caught in both foci. Sand flies' monthly activities started in early April and terminated in late November and October. Additionally, two active peaks of sand flies were observed in both foci; first in June and second in August to September.
Phlebotomus papatasi
(47.1%) was the most dominant species in out/indoors of both Shiraz (31.1%) and Kharameh (16.0%). It was also the only species which was found infected with
Leishmania major
, indeed, 2.68% and 2.53% of
P. papatasi
were infected to
L. major
in Kharameh and Shiraz, respectively. However, none of the female sand flies was positive for
Crithidia
spp. Despite various control strategies, especially against
Leishmania
, considerable cases of leishmaniasis are recorded from Iran every year. Phlebotomine plays the main role in transmission of
Leishmania
in these foci. Therefore, further studies are needed to determine the role of different phlebotomine species in epidemiological aspects of leishmaniasis.