01.12.2017 | Research article | Ausgabe 1/2017 Open Access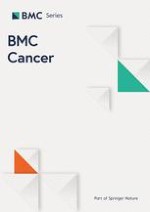 Biopsy of breast cancer metastases: patient characteristics and survival
Zeitschrift:
Autoren:

Shlomit Strulov Shachar, Tanya Mashiach, Georgeta Fried, Karen Drumea, Noa Shafran, Hyman B. Muss, Gil Bar-Sela
Abbreviations
FISH
Fluorescent in situ hybridization
HER2
Human epidermal growth factor receptor 2
RHCC
Rambam Health Care Campus
Background
However, it is still unclear whether patient characteristics are associated with having a biopsy and whether having a biopsy is associated with improved survival. Since prospective trials to address these questions are not likely to be performed, we conducted a large retrospective trial to help answer these questions.
Methods
Study design
After approval of the study protocol by the institutional ethics committee - Helsinki Committee of Rambam Health Care Campus (RHCC) (Certificate no. 0408-13-RMB) - a retrospective analysis was conducted of all medical records of adult patients treated in the Division of Oncology at RHCC in Haifa, Israel, for metastatic breast carcinoma from January 2000 to August 2014. Eligibility for the study included having metastatic/locoregional non-curable disease, previous treatment for early breast cancer with curative intent (including surgery), and an interval of at least 6 months since the end of adjuvant chemotherapy, radiotherapy, and/or surgery (adjuvant hormonal therapy was allowed). Excluded from the study were patients with
de novo
primary metastatic disease and patients who were not treated with curative intent at first diagnosis (without surgery). Patients were de-identified after data were collected from digital and non-digital records. Data extracted from the medical files included demographics and medical history: age, marital status, number of children, stage (American Joint Committee on Cancer, 7
th
edition), grade, ER, PR and HER2 status (from initial surgery/biopsy specimen), adjuvant treatment regimen, and type of surgery at initial diagnosis. Data obtained on patients with suspected metastases included the sites of metastasis, if and when a biopsy was done, a pathology report from the biopsy including documentation of metastatic adenocarcinoma, ER, PR and HER2status, and date of death or date of last follow-up. We defined a biopsy as a procedure confirming adenocarcinoma, including reassessment of HR and HER2 status. Patients were defined as not having a biopsy if they did not undergo biopsy, had a biopsy which only histologically confirmed metastases, or did not reassess HR and HER2 status. Positive ER or PR expression was defined as 1% of cells or greater staining for ER or PR. HER2 assessment was scored from 0–3+. In case of overexpression scored at 2+, fluorescent in situ hybridization (FISH) was performed. HER2 was considered positive if overexpression was scored at 3+ in immunohistochemistry, or 2+ in immunohistochemistry, if FISH was positive.
Statistical analysis
Logistic regression was used to calculate the odds ratios (OR) with 95% confidence intervals (95% CI) and
p
values in bivariate analysis to determine associations between tumor characteristics and likelihood of biopsy. Based on previous theory [
11
], variables with
p
 < =0.1 were included in subsequent Multivariable Forward Stepwise Logistic Regression analysis. The Hosmer-Lemeshow goodness-of-fit statistic [
11
] was calculated, and the area under the receiver operating characteristic (ROC) curve was used as a measure of model discrimination. Bivariate Cox regression was then used to calculate hazard ratios (HR) with 95% confidence intervals (CI) and
p
values for overall survival (OS). Stratified analysis was used to assess confounding. Variables with
p
 < =0.1 were used in multivariate Cox Regression analysis to assess the effect of biopsy on overall survival (OS), as well as the effect of patient and tumor characteristics. Two-tailed
p
values of 0.05 or less were considered statistically significant. Statistical analyses was performed using SPSS (Statistics Products Solutions Services) 21.0 software for Windows.
Results
Discussion
Conclusions
Our data confirm the high discordance rate between findings at initial breast cancer diagnosis and findings at metastases. Our findings suggest that patients most likely to benefit from biopsy are those without liver, lung or brain metastases, are younger than 70 years of age, and with missing receptors status at initial diagnosis. Recent American Society of Clinical Oncology (ASCO) guidelines [
24
] suggest that, in patients with accessible metastases, biopsy for confirmation of metastases and retesting of estrogen receptor, progesterone receptor, and HER2 status should be offered. However, evidence is lacking to determine whether modifying anticancer therapy on the basis of a change in receptor status influences clinical outcomes [
24
]. The ASCO panel consensus was to preferentially use the ER, PR, and HER2 status of the metastasis to direct therapy, if supported by the clinical scenario and the patient's goals. In addition, tissues from metastases may be used to assess molecular differences not limited to receptor level but also to investigate DNA, RNA, protein and functional pathway levels and to look for actionable mutations that might allow for novel new therapies [
5
,
25
]. Our findings support current recommendations and show that, in selected patients, a biopsy at metastatic recurrence that included HR and HER2 status was associated with significantly reduced mortality.
Acknowledgements
The authors thank Mrs. Myrna Perlmutter for her help in the preparation of this paper. Funding for this service was provided by the Division of Oncology, Rambam Health Care Campus, Haifa, Israel.
Funding
The project was funded by the Division of Oncology, Rambam Health Care Campus, Haifa, Israel.
Availability of data and materials
The datasets used and/or analysed during the current study are available from the corresponding author on reasonable request.
Authors' contributions
SS wrote the manuscript, collected and analyzed the data; TM did the statistical analysis; GF treated the patient and helped to draft the manuscript; KD treated the patient and helped to draft the manuscript; NS did the data collection and analysis; HM helped to draft the manuscript; GBS was the study initiator, helped in the data analysis, and drafted the manuscript. All authors have read and approved the manuscript as submitted.
Competing interests
The authors declare that they have no competing interests.
Consent for publication
Not applicable.
Ethics approval and consent to participate
Page 4 – This study was approved by the ethics committee of Rambam Health Care Campus, Haifa, Israel (Certificate no. 0408-13-RMB); Due to the retrospective nature of this study, consent for participation was not requested.
Open Access
This article is distributed under the terms of the Creative Commons Attribution 4.0 International License (
http://​creativecommons.​org/​licenses/​by/​4.​0/​
), which permits unrestricted use, distribution, and reproduction in any medium, provided you give appropriate credit to the original author(s) and the source, provide a link to the Creative Commons license, and indicate if changes were made. The Creative Commons Public Domain Dedication waiver (
http://​creativecommons.​org/​publicdomain/​zero/​1.​0/​
) applies to the data made available in this article, unless otherwise stated.