01.11.2018 | Psychosocial Aspects (SS Jaser, Section Editor) | Ausgabe 11/2018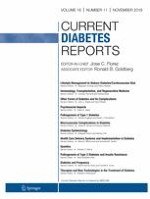 Biopsychosocial Factors Associated With Satisfaction and Sustained Use of Artificial Pancreas Technology and Its Components: a Call to the Technology Field
Zeitschrift:
Autoren:

Gregory P. Forlenza, Laurel H. Messer, Cari Berget, R. Paul Wadwa, Kimberly A. Driscoll
Wichtige Hinweise
This article is part of the Topical Collection on
Psychosocial Aspects
Abstract
Purpose of Review
Summarize biopsychosocial factors associated with using continuous glucose monitors (CGMs), insulin pumps, and artificial pancreas (AP) systems and provide a "call to the field" about their importance to technology uptake and maintained use.
Recent Findings
Insulin pumps and CGMs are becoming standard of care for individuals with type 1 diabetes (T1D). AP systems combining a CGM, insulin pump, and automated dosing algorithm are available for commercial use. Despite improved glycemic control with AP system use, numerous barriers exist which may limit their benefit. Studies on components of AP systems (pumps, CGMs) are limited and demonstrate mixed results of their impact on fear of hypoglycemia, adherence, quality of life, depression and anxiety, and diabetes distress. Studies examining biopsychological factors associated specifically with sustained use of AP systems are also sparse.
Summary
Biological, psychological and social impacts of AP systems have been understudied and the information they provide has not been capitalized upon.