09.12.2017 | Case Report - Functional | Ausgabe 3/2018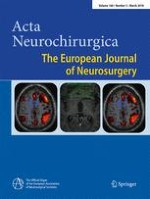 Bipolar dual-lead spinal cord stimulation between two electrodes on the ventral and dorsal sides of the spinal cord: consideration of putative mechanisms
Zeitschrift:
Autoren:

Mitsuru Watanabe, Takamitsu Yamamoto, Chikashi Fukaya, Toshiki Obuchi, Toshikazu Kano, Kazutaka Kobayashi, Hideki Oshima, Atsuo Yoshino
Wichtige Hinweise
Comments
This report is a demonstrative illustration of the mechanism why Dorsal Column Stimulation (DCS) is not effective in the patients harboring neuropathic pain after root avulsion. In complete root avulsion, like in this case of brachial plexus injury after motor cycle accident, it is quite logical that DCS do not work. As a matter of fact the dorsal column fibers that must be targeted have degenerated up to the level of brainstem. This is the reason why in those conditions DCS never elicits paresthesias covering the painful (avulsed) territory. Noteworthy, this can be predicted by Somato-Sensory-Evoked Potentials (SSEPs) measurements, when the Central Conduction Time is severely altered or even more abolished at the segmental levels injured [1].
In root avulsions, as well-studied, anatomical-physiological alterations involve the spinal cord itself [2]. Dorsal horn is generally modified by atrophy, cavitations, gliotic tissue, etc. Normal dorsal horn electrogenesis [3] is severely destructured. Micro-electrode recordings show spontaneous hyperactivity in the deafferented neurons [4]. Therefore present consensus is that the more effective method is destruction of these hyperactive neurons by lesioning the Dorsal Root Entry Zone (DREZ) and the dorsalmost layers of the Dorsal Horn [5, 6, 7, 8, 9]. Long-term studies of outcome show that the paroxystic component of the pain is totally suppressed in almost all patients after DREZ-lesioning, whereas the permanent continuous pain component, especially when of the burning type—like in the presented case—is less constantly alleviated [2, 10, 11].
In the authors' reported case, it might be that the Dorsal (cathode)/Ventral (anode) segmental stimulation works (1) by "jamming" the hyperactive local hyperactivity created by the deafferented neurons and/or (2) by stimulating the (still alive) neurons at the origin of the spino-reticular-thalamic pathways (altered neurons and pathways which can be the source of the burning pain).
Although this reported case is still unique in the literature, we think it must be taken into account within the frame of the pain surgery armamentarium for treating neuropathic pain syndromes, especially pain after deafferentation syndromes.
Marc Sindou,
Lyon, France
References
1. Sindou M, Mertens P, Bendavid U, Garcia-Larrea L, Mauguiere F (2003) Predictive value of somatosensory evoked potentials for long-lasting pain relief after spinal cord stimulation. Practical use for patient selection. Neurosurgery 52:374–1384
2. Sindou M, Blondet E, Emery E, Mertens P (2005) Microsurgical lesioning in the dorsal root entry zone for pain due to brachial plexus avulsion: a prospective series of 55 patients. J Neurosurg 102:1018–1028
3. Jeanmonod D, Sindou M, Mauguiere F (1991) The human cervical and lumbo-sacral evoked electrospinogram. Data from intraoperative spinal surface recordings. Electroencephalogr Clin Neurophysiol 80:477–489
4. Jeanmonod D, Sindou M, Magnin M, Boudet M (1989) Intraoperative unit recordings in the human dorsal horn with a simplified floating microelectrode. Electroencephalogr Clin Neurophysiol 72:450–454
5. Sindou M, (1972) Study of the dorsal root entry zone: implications for pain surgery. MD thesis, University of Lyon Press, Lyon
6. Sindou M, Quoex C, Baleydier C (1974) Fiber organization at the posterior spinal cord-rootlet junction in man. J Comp Neurol 153:15–26
7. Nashold BS, Ostdahl RH (1979) Dorsal root entry zone lesions for pain relief. J Neurosurg 51:59–69
8. Powers SK, Adams JE, Edwards SB, Boggan JE, Hosobuchi Y (1984) Pain relief from dorsal root entry zone lesions for pain control: report of three cases. J Neurosurg 61:841–847
9. Dreval ON (1993) Ultrasonic DREZ-operation for treatment of pain due to brachial plexus avulsion. Acta Neurochir 122:76–81
10. Aichaoui F, Mertens P, Sindou M (2011) Dorsal root entry zone lesioning for pain after brachial plexus avulsion: results with special emphasis on differential effects on the paroxysmal versus the continuous components. A prospective study in a 29-patient consecutive series. Pain 152:1923–1930
11. Ali M, Saitoh Y, Oshino S (2011) Differential efficacy of electric motor cortex stimulation and lesioning of the dorsal root entry zone for continuous vs paroxysmal pain after brachial plexus avulsion. Neurosurg 68:1252–1258
Abstract
We have applied bipolar dual-lead spinal cord stimulation (SCS) between two cylinder-type electrodes placed on the ventral and dorsal sides of the spinal cord (dual-VD-SCS). A 36-year-old man suffered from burning pain from his right elbow down to his hand after brachial plexus avulsion. The areas with paresthesia induced by conventional SCS did not include the painful hand area. However, dual-VD-SCS completely induced paresthesia in the painful hand area. We speculate that dual-VD-SCS can be applied to stimulate deeper sites of the dorsal column and dorsal horn than conventional SCS and is useful for pain reduction.