25.07.2019 | Original Article | Ausgabe 5/2020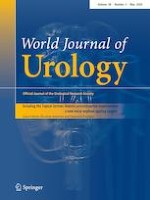 Bipolar endoscopic enucleation versus bipolar transurethral resection of the prostate: an ESUT systematic review and cumulative analysis
Zeitschrift:
Autoren:

Davide Arcaniolo, Celeste Manfredi, Alessandro Veccia, Thomas R. W. Herrmann, Estevão Lima, Vincenzo Mirone, Ferdinando Fusco, Cristian Fiori, Alessandro Antonelli, Jens Rassweiler, Evangelos Liatsikos, Francesco Porpiglia, Marco De Sio, Riccardo Autorino, EAU Section of Uro-Technology (ESUT) Research Group
Wichtige Hinweise
Electronic supplementary material
Davide Arcaniolo, Celeste Manfredi and Alessandro Veccia contributed equally to this work.
Publisher's Note
Springer Nature remains neutral with regard to jurisdictional claims in published maps and institutional affiliations.
Abstract
Purpose
To perform a cumulative analysis of the current evidence on the surgical and functional outcomes of bipolar endoscopic enucleation of the prostate (b-EEP) versus bipolar transurethral resection of the prostate (b-TURP).
Methods
A systematic review of the literature was performed on PubMed, Ovid®, and Scopus® according to Preferred Reporting Items for Systematic Review and Meta-analysis Statement (PRISMA Statement). The meta-analysis was conducted using the Review Manager 5.3 software. Parameters of interest were surgical and functional outcomes. Weighted mean difference, and odds ratio with 95% confidence interval were calculated for continuous and binary variables, respectively. Pooled estimates were calculated using the random-effect model.
Results
Fourteen comparative studies were included. No statistically significant difference in terms of overall baseline characteristics was found. b-EEP had higher amount of resected tissue (
p
 < 0.0001), shorter catheter time (
p
 = 0.006), lower Hb drop (
p
 = 0.03), and shorter length of stay (
p
 < 0.0001). Equally, overall post-operative complications were lower (
p
 = 0.01) as well as short (
p
 = 0.04), and long-term complication rate (
p
 = 0.04). There was higher re-intervention rate in the b-TURP group (
p
= 0.02) whereas b-EEP group had smaller residual prostate volume (
p
= 0.03), and lower post-operative PSA values (
p
 < 0.00001). At long term, b-EEP presented lower IPSS (
p
 = 0.04), higher
Q
max
(
p
 = 0.002), and lower PVR (
p
 < 0.00001).
Conclusions
b-EEP is an effective and safe surgical treatment for BPO. This procedure might offer several advantages over standard b-TURP, including the resection of a larger amount of tissue within the same operative time, shorter hospitalization, lower risk of complications, and lower re-intervention rate.
This was submitted to PROSPERO registry: CRD42019126748.