01.12.2019 | Research | Ausgabe 1/2019 Open Access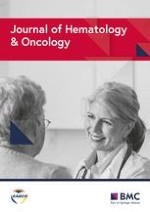 Bispecific CD3-HAC carried by E1A-engineered mesenchymal stromal cells against metastatic breast cancer by blocking PD-L1 and activating T cells
Zeitschrift:
Autoren:

Yuanyuan Yang, Xiaolong Zhang, Fangzhen Lin, Mengshang Xiong, Dongmei Fan, Xiangfei Yuan, Yang Lu, Yuewen Song, Yizi Zhang, Mu Hao, Zhou Ye, Yanjun Zhang, Jianxiang Wang, Dongsheng Xiong
Wichtige Hinweise
Electronic supplementary material
Yuanyuan Yang and Xiaolong Zhang shared co-first authorship
Abbreviations
BiTE
Bispecific T cell engager
CAR
Chimeric antigen receptor
ELISA
Enzyme-linked immune sorbent assay
hTERTp
Human telomerase reverse transcriptase promoter
MOI
Multiplicity of infection
MSCs
Mesenchymal stromal cells
PBMCs
Peripheral blood mononuclear cells
PBS
Phosphate-buffered saline solution
PCR
Polymerase chain reaction
scfv
Single-chain variable fragment
Background
Materials and methods
Cell lines and cell culture
Human breast cancer cell lines (MDA-MB-231 and MCF-7), embryonic renal cell line 293 A (Institute of Hematology and Blood Diseases Hospital Chinese Academy of Medical Sciences and Peking Union Medical College, PUMC, Tianjin, China), and human embryonic kidney cell-derived 293T cell line (kindly provided by Professor Cheng Tao, PUMC) were maintained in DMEM (Gibco, 1791922) supplemented with 10% FBS.
MSC preparation
MSCs were isolated from human umbilical cord Wharton's jelly (WJ) as previously described [
31
]. MSCs were cultured at a density of 8 × 10
3
cell/cm
2
in DF-12 medium (Invitrogen, USA) supplemented with 2 mM L-glutamine and 10% FBS (Gibco, USA). When cells reached 80~90% confluence, they were detached using a 0.125% trypsin/1 mM EDTA solution and re-seeded using the same growth medium for subsequent passages. For all experiments, early-passage MSCs (3P to 5P) were used.
Expression and purification of CD3-HAC
293T cells were transfected with pcDNA3.1(+)-CD3-HAC using Lipofectamine 2000 (Invitrogen, USA) according to the manufacturer's protocol. After 48 h of transfection, supernatants were collected by centrifugation at 500×
g
for 10 min at 4 °C to clear cellular debris. The secretory CD3-HAC in the supernatants were purified by 6×His-tag affinity chromatography (GE Healthcare, Sweden) according to the manufacturer's instruction. The purified preparations were quantified by Western blot analysis and used for cell-binding assays in vitro.
CD3-HAC binding detection on transduced cells
To confirm the expression of CD3-HAC protein, Western blot analysis was performed. And the cell surface binding of CD3-HAC was determined by flow cytometry and immunofluorescence analysis. MDA-MB-231 cells or MCF-7 cells were infected with AdCD3-HAC, AdHAC, AdCD3scfv, or Adtrack at 100 MOI for 48 h, respectively. The following detections were performed as described previously [
32
].
Cytotoxicity assays in vitro
MDA-MB-231 cells or MCF-7 cells were infected by AdCD3-HAC, AdCD3scfv, AdHAC, and Adtrack at 100 MOI for 48 h. Then, the adenovirus-loaded cells were seeded to 96-well plates (1 × 104/well). The next day, peripheral blood mononuclear cells (PBMCs) pretreated with IL-2 for 72 h were added at different effector to target (E:T) cell ratios ranging from 20:1 to 2.5:1. After 10 h, the specific lysis of target cells was detected by LDH release assay according to the manufacturer's instruction. The percentage of cell lysis was calculated as the following formula: Cytotoxicity = (Experimental − effector spontaneous − target spontaneous)/(target maximum − target spontaneous) × 100%. For the 5-FU-enhanced cytotoxicity assay, MDA-MB-231 cells were pretreated with or without 5-FU (0.25 μg/mL) for 24 h followed by adenovirus infection. Forty-eight hours later, target cells were plated to 96-well plates (1 × 104/well), and PBMCs were added at E:T ratio of 10:1. The following processes were performed as described above.
Restoration of lymphocyte activity with HAC
A MDA-MB-231 cell line constitutively expressing membrane-bound anti-CD3scfv, named 231.CD3, was established. For the first round stimulation, PBMCs were incubated with 231.CD3 cells at E:T ratio of 5:1 for 3 days. Then, the floating cells were harvested and washed twice by PBS. For the second round of co-incubation with 231.CD3 cells, the E:T ratio was turned to 1:5 and lasted for 5 days with or without HAC (33 pmol/mL). Finally, the secreted IFN-γ in supernatant was measured by ELISA.
Real-time PCR
Total RNA was extracted from suspension cells using Trizol reagent (Invitrogen, USA) following the manufacturer's protocol. The complementary DNA (cDNA) was generated using OligdT primers and M-MLV reverse transcriptase (Invitrogen, USA) with 2 μg total RNA. Real-time PCR was performed using QuantStudio 5 real-time PCR system (Applied Biosystems, USA), in combination with SYBR Green (Takara, Dalian, China). The primers were designed as follows: 5′-AAGTCAGCTCCACTGAAGCT-3′ and 5′-GGTAGGTTTGGTGGAAGGAG-3′ for perforin, 5′-GCTTATCTTATGATCTGGGATC-3′ and 5′-AAGTCAGATTCGCACTTTCGA-3′ for granzyme B. Relative transcript expression was normalized to that of GAPDH mRNA.
Co-culture study and assessment of apoptosis
MDA-MB-231 cells loaded with AdHAC or Adtrack were co-cultured with Jurkat leukemia T cells at the ratio of 10:1 for 24 h. Before co-incubation, Jurkat cells were labeled with Cell Trace™ Far Red (Thermofisher) for flow cytometry analysis. The extent of apoptosis in Jurkat cells was determined by flow cytometry using FITC-Annexin V (BD) according to the manufacturer's instruction.
Package of replication-defective adenovirus in E1A-modified MSCs in vitro
MSCs were plated on 6-well plates (1 × 10
5
/well) and were infected with Adtrack at 500 MOI. On the next day, cells were washed twice with PBS and transduced with LentiR.E1A (lentiviral expression vector for E1A was shown in Additional file
1
: Figure S2) with 8 μg/mL polybrene (Sigma). Co-infected MSCs and corresponding supernatants were harvested at indicated time, from which the adenoviral DNA was extracted using High Pure Viral Nucleic Acid Extraction Kit (Roche). Digital PCR was performed by QX200 Droplet Digital PCR system to examine the exact copy number of hexon gene (nucleotides 21049–21334 of Ad5), representing the quantity of viral particles. The primers were designed as follows: 5′-GGTGGCCATTACCTTTGACTCTTC-3′ and 5′-CCACCTGTTGGTAGTCCTTGTATTTAGTATCATC-3′. Finally, the DNA copy numbers were converted to total adenovirus particle counts by multiplying a certain dilution ratio.
Breast cancer lung metastasis animal models
MDA-MB-231 (231) or Luc-MDA-MB-231 (231-Luc) breast cancer cells (1 × 106 per mouse) were infused intravenously (i.v.) into BALB/c nude mice (female, 5–6 weeks of age; PUMC, China). All animal studies were performed according to the guidelines under the Animal Ethics Committee of Chinese Academy of Medical Sciences and Peking Union Medical College.
MSC transplantation
For the in vivo MSC homing assays, MSC.AdLuc.LentiR., MSC.AdLuc.E1A, or PBS were injected intravenously into 231-tumor-bearing mice or tumor-free mice (1 × 106 per mouse). For engineered MSC activation, MSC.Adtrack.LentiR. or MSC.Adtrack.E1A were infused into 231-Luc-tumor-bearing mice (1 × 106 per mouse) through tail vein. And for the functional study of CD3-HAC, MSC.CD3-HAC.E1A. or MSC.Adtrack.E1A were administrated intravenously into the mice harboring 231-Luc (1 × 106 per mouse), followed by PBMC infusion 2 days later.
In vivo bioluminescence imaging
For the in vivo MSC homing assays, we developed an adenoviral vector containing a firefly luciferase reporter gene (Ad-Luc). MDA-MB-231 (231) breast cancer cells (1 × 10
6
per mouse) were infused intravenously into BALB/c nude mice to establish breast cancer lung metastasis model. Three weeks after MDA-MB-231 cell transplantation, MSC.AdLuc.LentiR., MSC.AdLuc.E1A, or PBS were injected intravenously into tumor-bearing mice or into tumor-free mice (1 × 10
6
per mouse). Bioluminescence imaging (BLI) was performed using IVIS-Xenogen 100 system (Caliper Lifesciences, USA) at the indicated time points, as previously reported [
24
,
33
]. Quantitative analysis of in vivo luciferase was measured as described Liu et al. [
33
].
Ex vivo immunohistochemistry
Lung tissues were harvested from tumor-bearing or tumor-free mice (day 1 for MSC homing assay, day 1, 2, and 5 for engineered MSC activation, day 6 for the study of fusion protein function). Frozen slides (20 μm) were rehydrated in dH
2
O for 5 min, permeabilized in 0.1% Triton X-100 for 10 min, and blocked in 0.1% Triton X-100 with 5% normal donkey serum for 1 h. Samples were stained with primary antibodies (Additional file
1
: Table S1) overnight at 4 °C and secondary antibodies (Additional file
1
: Table S2) for 2 h at room temperature. Nuclei were stained with DAPI (Sigma). Images were captured by a two-photon laser scanning confocal microscope (OLYMPUS, FV1200 MPE).
In vivo treatment of breast cancer
MDA-MB-231-Luc (Luc-231) breast cancer cells were infused intravenously into 5–6-week-old female BALB/c nude mice (1 × 106 per mouse). Six days later (day 0), the mice with luciferase signal in the lung were imaged and randomized into five groups as follows: (1) PBS, (2) 5-FU, (3) MSC+PBMC, (4) MSC.CD3-HAC.E1A+PBMC, and (5) MSC.CD3-HAC.E1A+PBMC+5-FU. Hematoxylin and eosin staining was performed to conform the tumor infiltration in the lung. MSCs were co-infected as described above. MSC, MSC.CD3-HAC.E1A, or PBS were injected intravenously into the tumor-bearing mice (day 1, 8, 15; 1 × 106 per mouse) followed by IL-2 pre-activated PBMC administration 3 days later (day 4, 11, 18). The mice were treated with or without 5-FU (i.p., 20 mg/kg) every other day after MSC injection for three times. In vivo luciferase signal was monitored via Xenogen IVIS imaging at indicated time points. For the survival experiment, the endpoint for mice was defined as "found dead" or euthanasia criteria. For the pathology inspection, the brain, spleen, liver, and bone marrow were harvested and stained with hematoxylin and eosin.
Statistical analysis
Data are represented as mean ± SD. Statistical analysis was performed using GraphPad Prism 6 or Microsoft Excel software. Significance was assayed by an unpaired two-tailed Student
t
test or ANOVA. *
P
< 0.05; **
P
< 0.01; ***
P
< 0.001; ****
P
< 0.0001.
Results
Discussion
Here, we sought to explore whether it might be possible to produce curative outcomes among mice harboring lung metastasis of breast cancer through local release of a bispecific fusion protein in the presence of 5-FU or not. We showed specifically expressed CD3-HAC protein by tumor cells in a controlled spatiotemporal manner using a proved MSC.E1A delivery system conferring certain efficacy to trigger lymphocytes and bridged T cells to PD-L1-expressing tumor cells. And the antitumor effect of this targeted therapeutic system in combination with 5-FU was confirmed in vivo.
Although with decades of exploration, little progress was achieved in the treatment of metastasis. Several studies described TNBC as the most immunogenic subtype with increased tumor infiltrating lymphocytes (TILs) and PD-L1 expression compared to other breast cancers [
39
,
40
], leading to various clinical trials of PD-1/PD-L1 blockade therapy. Although preliminary, the overall response rate of monotherapy with anti-PD-1/PD-L1 therapy in metastatic TNBC ranged from 4 to 20% [
41
]. The immunologic inertia of metastatic lesions [
42
] and immune privilege mechanism in cold tumor cases [
43
] count for potential explanations of the low response rate in TNBC, both highlight the critical role of addressing deficient T cell priming in PD-1/PD-L1-refractory cancers. Harnessing and recruitment of T cells via bispecific proteins serves as an effective approach to prime immune response, which bind one arm to T cell activation domain and bind the other arm to a tumor-associated antigen on the target cell [
44
]. Here, we constructed CD3-HAC composed by anti-human CD3scfv sequence and a high affinity PD-1 sequence (HAC) in adenoviral vector. To enhance the anti-tumor specificity and reduce the potential risk to normal cells, we employed hTERT promoter to operate the expression of CD3-HAC fusion protein. The surface binding to cancer cells of CD3-HAC was examined by immunofluorescence and flow cytometry analysis on PD-L1
hi
and PD-L1
low
cell lines (Fig.
1f
). CytoTox96VR Non-Radioactive Cytotoxicity Assay claimed that the lysis of tumor cells induced by CD3-HAC was significantly proportional to the amount of PD-L1 expressed by the target cells within 10 h (Fig.
2a
). Moreover, the function of CD3-HAC was comprehensively tested from different aspects, including the expression of activation markers on lymphocytes by flow cytometry, cytokine levels by ELISA, and typical cell interaction by confocal microscopic video imaging.
Besides the tumor cells, various host immune cells and stromal cells in the complex tumor microenvironment maintain the expression of PD-L1, particularly myeloid cells and tumor-associated macrophages, IFN-γ dependent or not [
45
,
46
]. Since CD3-HAC targets PD-L1-positive cells, specious "on target/off tumor" effect was reasoned. Recently, it suggested that PD-L1 expression in both the host and tumor compartment contributes to immune suppression in a non-redundant way and both predicted the sensitivity of therapeutic agents targeting the PD-L1/PD-1 axis [
45
]. We inferred that blockage of host-derived PD-L1 and inducing lysis of immunosuppressive cells by CD3-HAC played essential role in damaging tumor microenvironment and reversing immune tolerance.
To concentrate the immune response strictly within the breast cancer metastases and avoid the potential adverse effects of immunomodulator, we hypothesized that an adenovirus-loaded MSC.E1A can be used for such approach. MSCs are multi-potent cells derived from multiple tissues [
47
], which have been proven safe for clinical applications in the treatment of various diseases [
22
]. In previous study, we have demonstrated that gene-modified MSCs could maintain their properties after virus infection, including their surface markers, tri-lineage differentiation, proliferation, and the capacity to migrate towards tumor cells both in vitro and in vivo experiments [
44
]. And several previous investigations in our laboratory have proved this MSC-based delivery strategy in subcutaneous and orthotopic hepatocarcinoma xenograft model [
29
,
30
,
32
]. In the present study, the efficient delivery of therapeutics to metastases was concerned, which is the crucial superiority of MSC.E1A over other intratumoral methods, especially for minimal lesions. And the tropism of MSCs towards metastasis in mice bearing with MDA-MB-231 cells was confirmed in in vivo imaging system. Furthermore, the infection ability and following function of new generated AdCD3-HAC were demonstrated by ex vivo immunohistochemistry (Fig.
6b
).
The appropriate expression of E1A is the most essential element in determining the spatiotemporal fate of MSC.E1A transfer system, since the complement of E1A gene in host cells will concomitantly switch on the viral replication of adenovirus serotypes 5 (Ad5) [
48
]. To avoid the leakage of adenovirus before MSCs located in tumor sites, tissue-specific promoter could be utilized to regulate E1A gene involved in MSC differentiation cascades [
29
,
33
]. However, given the absence of proper promoters for most cancer types, adenovirus-loaded MSC.E1A taking advantage of the delay of lentiviral gene expression to limit the E1A activation could be explored with broad adaptability [
24
,
30
]. Adenoviral replication was observed in MSCs 24 h after LentiR.E1A infection and reached the peak at 48 h, followed with the release of adenoviral particles into supernatant (Fig.
4a
). Furthermore, the luciferase bioluminescence and immunofluorescence were performed to investigate the kinetic distribution of systemically administered MSCs (Fig.
5
), which confirmed the preferential localization of MSCs to tumor sites within 12 h [
33
]. Based on these set of data, there is sufficient time for virus-loaded MSCs to arrive at metastatic niche before lysis by adenoviral production. Although it was unfeasible to guarantee the migration of all MSCs, we confirmed that no significant damage was detected in the bone marrow, liver, or brain tissue as a result of systemic treatment with MSC.E1A (Additional file
1
: Figure S11).
Note that MSCs have previously been suggested to regulate cancer progression in various researches, both positively and negatively [
47
,
49
,
50
]. In this study, MSCs themselves were observed to slightly promote the growth of tumor, other than the adenovirus-loaded MSC.E1A. In previous research, we found that MSCs contribute to the immunosuppressive microenvironment via several pathways in subcutaneous Raji xenografts [
44
]. However, we do not consider it as a major issue in this system, since the adenovirus-loaded MSC.E1A only stayed in tumors for less than 4 days (Fig.
5
b) and have been proved to be disrupted both in vitro and in metastatic niche due to the adenovirus production (Figs.
4
c and
6
a), which avoided the potential immunosuppression. This suggested that adenovirus-loaded MSC.E1A can be an efficient and safe delivery system against cancer, compared to non-self-destructing MSCs.
Additionally, we combined low dose of 5-FU with this local immunotherapy and intended to increase the utilization of new generated AdCD3-HAC in metastasis and promote antitumor effect. Consistent with previous researches, the expression of CAR and avβ3 on breast cancer cells, essential for adenovirus internalization, were upregulated in the presence of 5-FU. The infection efficiency of adenovirus was consequently increased than that of adenoviral treatment alone, particularly at the lower MOI, and led to improved cytotoxic effect of PBMCs. In established breast cancer xenograft, tumor suppression and survival of the mice was significantly enhanced in the group of MSC.E1A.CD3-HAC+PBMC+5-FU.
Finally, we demonstrated this strategy in shifting the PD-L1-mediated immune evasion mechanism to an efficient therapeutic target. The identification of tumor-associated antigens (TAAs) is at the core of immunotherapeutic interventions; however, available TAAs are limited in the treatment of solid tumor due to the high heterogeneity of malignancy and selective pressure of immune system. PD-L1 is a "broad spectrum" tumor biomarker constructively expressed or responded to interferons (IFNs) [
51
]. Bispecific CD3-HAC expectedly induced the cytotoxic T lacking PD-L1, although the killing effect remains modest within the first 10 h of interaction (Fig.
2
a), the concentrated CD3-HAC protein can boost the tumor infiltrating lymphocyte primarily, and consequently increase the expression of PD-L1 on cancer cells driven by IFN-γ, which represents a reinforced positive feedback loop in the long run. Moreover, the enhanced expression of PD-L1 was accidentally observed by the 5-FU pretreatment (Fig.
3i
), which was consistent with previous reports that PD-L1 expression in tumor cells was considerably increased after chemotherapy [
52
,
53
]. We confirmed that the upregulated PD-L1 on tumor cells provided more potential binding sites for CD3-HAC combined with the increased uptake of adenoviruses leading to improved cytotoxic effect of PBMCs (Fig.
3d
). Both the innate or adaptive immune resistance can be exploited to overcome the antigen limitations by this CD3-HAC locally released system and achieve cascade-like treatment at the tumor site. Therefore, the CD3-HAC bispecific fusion protein could be served as an effective approach to enhance immune response in tumor microenvironment with different immune phenotypes.
Conclusions
We have focused on lung metastasis of breast cancer to highlight a spatiotemporally defined manner and antitumor effects of T cells induced by CD3-HAC secreted from tumor cells in the aid of MSC.E1A delivery system towards micrometastasis. Notably, this MSC.E1A-based strategy could be popularized to resolve the problem of metastasis of other cancers and might be a potential cellar platform for the transfer of various immuno-oncology drugs or genetic engineering drugs.
Acknowledgements
Not applicable.
Funding
This work was supported by the National Natural Science Foundation of China (Grant Nos.81773303, 81572993, 81830005), CAMS Initiative for Innovative Medicine (Grant Nos. 2016-I2M-1-007, 2016-I2M-3-013, 2017-I2M-1-005), National Precision Medicine Special Fund (Grant Nos. 2017YFC0909800).
Availability of data and materials
The dataset supporting the conclusions of this article is included within the article.
Ethics approval and consent to participate
All animal studies were performed in accordance with guidelines under the Animal Ethics Committee of the Institute of Hematology & Hospital of Blood Diseases, Chinese Academy of Medical Sciences & Peking Union Medical College.
Consent for publication
Not applicable.
Competing interests
The authors declare that they have no competing interests.
Publisher's Note
Springer Nature remains neutral with regard to jurisdictional claims in published maps and institutional affiliations.
Open Access
This article is distributed under the terms of the Creative Commons Attribution 4.0 International License (
http://​creativecommons.​org/​licenses/​by/​4.​0/​
), which permits unrestricted use, distribution, and reproduction in any medium, provided you give appropriate credit to the original author(s) and the source, provide a link to the Creative Commons license, and indicate if changes were made. The Creative Commons Public Domain Dedication waiver (
http://​creativecommons.​org/​publicdomain/​zero/​1.​0/​
) applies to the data made available in this article, unless otherwise stated.