20.10.2018 | Ausgabe 2/2018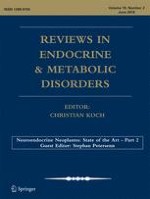 Black swans - neuroendocrine tumors of rare locations
Zeitschrift:
Autoren:

Christian A. Koch, S. Petersenn
Wichtige Hinweise
Some of the material has been presented in poster form at international meetings, for instance:
Koch CA, Paschke R, Witzigmann H, Petersenn S, Josten C, Kluge R, Bigler S, Tannapfel A. Long-term survival of a patient with a malignant neuroendocrine tumor of the kidney. Poster P3-797, Endocrine Society, Toronto, Canada, June 2007
Vijayakumar V, Koch CA. Update on the role of nuclear medicine in the diagnosis and therapy of patients with pheochromocytoma. The 41st Annual Scientific Meeting ANZ SNM, Darwin, Australia, July 17/18, Poster P-80, published in Internal Medicine Journal, July 2011, Vol.41 (Suppl 3):43
Case 2 has been presented in figure illustration format in reference 42.
Abstract
Neuroendocrine neoplasms (NEN) are rare and heterogeneous. Therefore, they often remain unrecognized for many years, causing significant disease burden. We here report on four unusual NEN presentations including a metastatic NEN of the kidney, hypoglycemia caused by an insulin-like growth factor-2-oma (previously called non-islet-cell tumor hypoglycemia), multifocal pheochromocytoma in von Hippel Lindau syndrome, and ileal NEN metastatic to the heart. One could say that each one of these tumors were "black swans" and learning about them will increase further awareness of the spectrum of NEN.