01.12.2015 | Review | Ausgabe 1/2015 Open Access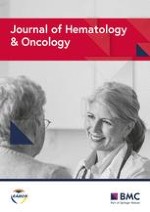 Blinatumomab: a bispecific T cell engager (BiTE) antibody against CD19/CD3 for refractory acute lymphoid leukemia
Zeitschrift:
Autoren:

Jingjing Wu, Jiaping Fu, Mingzhi Zhang, Delong Liu
Wichtige Hinweise
Competing interests
The authors declare that they have no competing interests.
Authors' contributions
DL designed the study. JW and DL drafted the manuscript. DL and JF designed and finalized the figure preparation. All authors were involved in manuscript preparation and revisions. All authors read and approved the final manuscript.
Targeted therapy has been the forefront of cancer treatment [
1
–
7
]. Monoclonal antibodies have played a major role in lymphoma therapy for more than a decade [
8
–
11
]. Cancer immunotherapy is the most recent focus of clinical development [
12
–
17
]. In addition, novel immunotherapeutics targeting B cell receptor signaling (e.g., ibrutinib) [
2
,
18
], T cell receptor (e.g., CART19) [
19
–
22
], and NK cells (e.g., AFM13) [
23
–
25
] are being developed. This review summarized the clinical development in blinatumomab (MT103/MEDI-538), a first-in-class bispecific T engager (BiTE) antibody against CD19/CD3 in patients with relapsed/refractory precursor B cell acute lymphoid leukemia (ALL).
Bispecific antibodies and diabody
Bispecific antibodies (bsAb) was initially developed through hybrid-hybridoma, chemical linkage, or renaturation from purified recombinant Fab or Fv fragment from bacterial inclusion bodies [
11
,
26
,
27
]. One of the major limitations of these technologies is the difficulty in producing sufficient amount of clinical grade bsAbs. This has made the clinical testing of the bsAbs falling behind.
Through molecular cloning and/or phage expression library, high affinity recombinant single-chain Fv fragment (scFv) has been produced. This led to the development of bivalent bispecific antibody fragments, diabodies [
11
,
26
,
27
]. A heavy chain scFv (V
H
) is connected with a light chain scFv (V
L
) by a short amino acid linker to form a single polypeptide. The short linker is too short to allow self association of the two adjacent V
H
and V
L
domain. Therefore, by linking the V
H
and V
L
of two different antibodies A and B to form two different "cross-over" polypeptide chain V
H
A-V
L
B and V
H
B-V
L
A, a diabody containing both antigen-binding sites through non-covalent association is formed (Fig.
1
) [
11
,
26
,
27
]. One such functional small bispecific antibody against EpCAM /CD3 was engineered and purified from Chinese hamster ovary (CHO) cells [
27
]. This antibody was found to be able to redirect T cells to lyse colon cancer cells expression EpCAM antigen. Using this approach, clinical grade bsAbs were produced from CHO cells in large quantity [
23
,
24
,
28
].
×
Structure and properties of blinatumomab
Combination chemotherapy for relapsed and/or refractory acute lymphoblastic leukemia usually leads to a CR rate in 30–45 % of patients and overall survival of 4·7–8·6 months in first salvage treatment [
29
–
33
]. CD19 is a common B cell surface marker [
34
–
38
]. Monoclonal antibodies against CD19 have been in active clinical development [
39
,
40
].
In an attempt to develop novel treatment agent for refractory B cell malignancies, a bsAb against CD19/CD3, MT103/MEDI-538 (blinatumomab), was engineered using the diabody approach [
41
]. One arm of this antibody binds CD19, while the other arm binds CD3 (Fig.
2
). By redirecting unstimulated primary human T cells against CD19-positive lymphoma cells, the bispecific CD19/CD3 antibody fragment showed significant cytotoxic activity at very low concentrations of 10 to 100 pg/mL and at effector-to-target cell ratios as low as 2:1. This single-chain bispecific antibody construct belongs to a new class of antibody fragments, BiTE [
42
–
51
]. This bispecific antibody fragment has a molecular weight of 54.1 kDa, approximately one-third of the size of a traditional monoclonal antibody (mAb). As CD19 is an attractive target, CD19 mAb has been widely studied for therapies of lymphoma, leukemia, and autoimmune disorders, such as anti-B4-bR, SAR3419 (huB4-DM4), and BiTE [
38
–
40
,
52
]. Blinatumomab can potentiate unstimulated T cells and induce direct cytotoxicity against CD19+ cells [
42
].
×
Several properties of blinatumomab promoted its development for immunotherapy of lymphoma and leukemia. Because of its single-chain structure, blinatumomab can be produced with a stable purified monomeric formulation in large quantities for clinical use [
23
,
24
,
28
,
41
]. Blinatumomab has been shown to increase inflammatory cytokine production, specifically IL-2, IFN-γ, TNF-α, IL-4, IL-6, and IL-10 [
53
]. Importantly, it can bridge malignant B cells directly to CD3-positive T cells, bypassing T cell receptor (TCR) specificity and major histocompatibility complex (MHC) class I molecules [
41
,
54
,
55
]. The CD19/CD3 BiTE antibody was shown to induce T-cell-mediated depletion of primary lymphoma cells in 22 out of 25 cases. This effect could be observed at low effector-to-target (E:T) ratios and in the majority of cases without additional activation of autologous T cells by IL-2 [
41
,
54
]. Data from animal models support a high activity of blinatumomab at very low doses against tumor cells in lymphoma and leukemia models [
43
,
48
,
55
–
57
].
Blinatumomab in clinical development
Conclusion and future directions
Blinatumomab represents the first-in-class BiTE antibody in clinical use and provides a novel therapeutic option for patients with relapsed/refractory B cell ALL [
43
,
58
,
64
,
67
,
76
]. The pharmacodynamics and immunophenotype data are still being collected [
67
]. One obvious disadvantage of this BiTE antibody is the requirement for continuous IV infusion because of the small molecular weight and rapid clearance from circulation. Newer tetravalent bispecific antibodies, AFM11 and AFM13, can be given as weekly or twice weekly [
23
,
24
,
28
]. T cells with CD19/CD3 chimeric antigen receptors (CAR-T) have been shown to induce high remission rate (90 % CR in refractory ALL), and can expand 1000 times in vivo [
77
–
80
]. The rate of CRS associated with CAR-T therapy (27 % severe) was much higher than that of blinatumomab (2 %). CAR-T was shown to penetrate blood-brain barrier [
78
]. It is not known whether blinatumomab has similar property. It remains unclear what is the optimal treatment duration and schedule of blinatumomab for patients who cannot receive allo-HSCT. The role of consolidation or maintenance for blinatumomab also remains an area of investigation. Incorporation of blinatumomab in the first-line treatment setting is in active clinical trials (NCT02143414, phase II and NCT02003222, phase III). BiTE antibodies against other antigens (e.g., CD33, CD 79b) are under active clinical studies for myeloid leukemia and lymphoma [
81
,
82
]. Since blinatumomab was shown to activate effector T cells [
52
,
58
], it would be interesting to study the potential of using blinatumomab for effector T cell expansion for cancer immunotherapy.
Acknowledgements
JF received a fellowship grant from the Shaoxing People's Hospital, Zhejiang Province, China. JW is a recipient of the Henan Provincial Grant for Overseas Research for Young Leaders of Medical Technology (No. 2014041). The grants supported their research training at the Division of Hematology and Oncology, New York Medical College, USA. In addition, JW also received grant support from the Natural Science Foundation of China (NSFC No. 81201793).
Open Access
This article is distributed under the terms of the Creative Commons Attribution 4.0 International License (
http://​creativecommons.​org/​licenses/​by/​4.​0
), which permits unrestricted use, distribution, and reproduction in any medium, provided you give appropriate credit to the original author(s) and the source, provide a link to the Creative Commons license, and indicate if changes were made. The Creative Commons Public Domain Dedication waiver (
http://​creativecommons.​org/​publicdomain/​zero/​1.​0/​
) applies to the data made available in this article, unless otherwise stated.
Competing interests
The authors declare that they have no competing interests.
Authors' contributions
DL designed the study. JW and DL drafted the manuscript. DL and JF designed and finalized the figure preparation. All authors were involved in manuscript preparation and revisions. All authors read and approved the final manuscript.