17.02.2017 | Original Article | Ausgabe 3/2017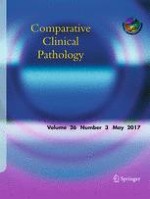 Blood chemistry and haematology of West African Dwarf goats fed
Moringa oleifera

leaf meal (MOLM) in their diet
Zeitschrift:
Autoren:

P . C. Jiwuba, F. O. Ahamefule, I . P. Ogbuewu, K. Ikwunze
Abstract
West African Dwarf (WAD) goat is one of the most prolific goat species in Nigeria, and its production fulfils important socio-economic functions. In Nigeria, high cost of feed and inadequate nutrient intake undermines this goat breed in expressing their full potential. Therefore, the effect of 90 days of feeding MOLM diets on blood chemistry and haematology of WAD goats were investigated. Thirty six, 10–11-months old WAD goats were divided into four groups of nine , and each group was replicated thrice. Each group was assigned to one of the experimental diets in a completely randomized design tagged A (0%), B (5%), C (10%) and D (15%). Blood samples for analysis were obtained from one animal in each replicate, and data-generated were analysed statistically. The haematology showed that mean cell volume (MCV) and packed cell volume (PCV) were significantly improved (
p
< 0.05) at 10 and 15% inclusion levels, respectively. Goats in treated groups had improved (
p
< 0.05) white blood cell (WBC) count than those on control. Serum biochemistry results showed that serum creatinine values of goats in group A (control) were significantly higher (
p
< 0.05) than those in group C and D, but similar (
p
< 0.05) to those in group B. Total bilirubin value at 15% and AST at 10% inclusion differed significantly (
p
< 0.05) with the control value. These results showed that inclusion of
Moringa oleifera
leaf meal had a beneficial effect on health status of goats. Therefore, up to 15% MOLM supplementation was recommended for optimum performance in West African Dwarf goats.