28.05.2018 | Original Article | Ausgabe 2/2018 Open Access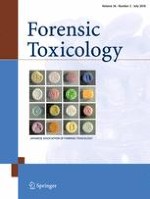 Blood concentrations of a new psychoactive substance 4-chloromethcathinone (4-CMC) determined in 15 forensic cases
Zeitschrift:
Autoren:

Ewa Tomczak, Mateusz Kacper Woźniak, Marzena Kata, Marek Wiergowski, Beata Szpiech, Marek Biziuk
Wichtige Hinweise
Ewa Tomczak and Mateusz Kacper Woźniak contributed equally as first authors.
Abstract
Purpose
The 4-chloromethcathinone (4-CMC) is a synthetic derivative of cathinone and belongs to new psychoactive substances. Neither data on the effects of 4-CMC on the human body, nor on nontoxic, toxic and lethal concentrations in biological materials have been published in the literature. This paper describes the results of an analysis of the blood concentrations of 4-CMC determined in 15 forensic cases related to nonfatal intoxication including driving under the influence, and fatalities including overdoses, suicide and traffic accidents.
Methods
A new method for the quantification of 4-CMC using gas chromatography–mass spectrometry (GC–MS) was developed. The symptoms of 4-CMC use were also studied based on an analysis of the documents prepared during the collection of samples or at autopsies.
Results
The limits of detection and quantification of the method for blood samples were 0.3 and 1 ng/mL, respectively. The calibration curve was linear in the studied concentration range (1–500 ng/mL) with the correlation coefficient at 0.9979. The extraction recoveries varied in the range of 94.3–98.8%. The accuracy and precision were acceptable. The determined concentrations in nonfatal cases ranged from 1.3 to 75.3 ng/mL, and in fatalities from 56.2 to 1870 ng/mL.
Conclusions
Our study can assist in the recognition of the possible effects caused by 4-CMC and can be helpful during the preparation of forensic toxicological opinions for courts of law. The validation parameters indicate the sensitivity and accuracy of the method. This is the first work presenting a validated method for the determination of 4-CMC in blood samples by GC–MS.