01.03.2016 | Original Article | Ausgabe 2/2016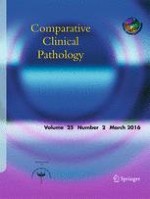 Blood smear demonstrations of
Anaplasma

-infected sheep in a flock
Zeitschrift:
Autoren:

Maryam Rassouli, Khatereh Kafshdouzan, Mohammad Saberi Zow, Sajjad Ghodrati
Abstract
Ovine anaplasmosis is caused by two intraerythrocytic
Anaplasma
species (Rickettsiales, Anaplasmataceae). Ticks are the most important vectors in anaplasmosis. The mortality of this disease is relatively low, but it has worldwide distribution. The disease is endemic in some areas because chronic infected animals and infected vectors can act as
Anaplasma
reservoirs. Despite the low mortality, the economic loss which is caused by the disease is relatively high. In this research, one sheep flock which had been involved with anaplasmosis was described. Peripheral blood samples were taken and stained by Giemsa. Cell changes in the stained blood films that had been caused by anaplasmosis and management measures to prevent the disease were discussed in details. This study is important because it was done in a naturally
Anaplasma
-infected flock, emphasized on valuable changes in the infected blood films, and discussed the importance of preventive measures in an area.