01.12.2017 | Research | Ausgabe 1/2017 Open Access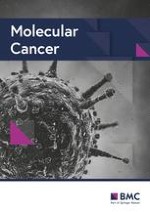 BMI1, a new target of CK2α
Zeitschrift:
Autoren:

Soumyajit Banerjee Mustafi, Prabir Kumar Chakraborty, Shailendra Kumar Dhar Dwivedi, Kai Ding, Katherine M. Moxley, Priyabrata Mukherjee, Resham Bhattacharya
Wichtige Hinweise
Electronic supplementary material
The online version of this article (doi:
10.​1186/​s12943-017-0617-8
) contains supplementary material, which is available to authorized users.
Abstract
Background
The polycomb group protein, BMI1 plays important roles in chromatin modification, stem cell function, DNA damage repair and mitochondrial bioenergetics. Such diverse cellular functions of BMI1 could be, in part, due to post-translational modifications, especially phosphorylation. To date, AKT has been reported as a kinase that by site specific phosphorylation of BMI1 modulates its oncogenic functions.
Methods
Immunoprecipitation in conjunction with kinase assay and mass spectrometry was used to determine association with and site specific phosphorylation of BMI1 by CK2α. Functional implications of the BMI1/CK2α axis was examined in cancer cells utilizing siRNA and exogenous gene expression followed by biochemical and phenotypic studies. Correlations between expression of CK2α and BMI1 were determined from cell lines and formalin fixed paraffin embedded tissues representing the normal fallopian tube epithelium and high grade serous ovarian cancer samples.
Results
Here we report that CK2α, a nuclear serine threonine kinase, phosphorylates BMI1 at Serine 110 as determined by in-vitro/ex-vivo kinase assay and mass spectrometry. In ovarian cancer cell lines, expression of CK2α correlated with the phospho-species, as well as basal BMI1 levels. Preventing phosphorylation of BMI1 at Serine 110 significantly decreased half-life and stability of the protein. Additionally, re-expression of the phosphorylatable but not non-phosphorylatable BMI1 rescued clonal growth in endogenous BMI1 silenced cancer cells leading us to speculate that CK2α-mediated phosphorylation stabilizes BMI1 and promotes its oncogenic function. Clinically, compared to normal fallopian tube epithelial tissues, the expression of both BMI1 and CK2α were significantly higher in tumor tissues obtained from high-grade serous ovarian cancer patients. Among tumor samples, the expression of BMI1 and CK2α positively correlated (Spearman coefficient = 0.62,
P
 = 0.0021) with each other.
Conclusion
Taken together, our findings establish an important regulatory role of CK2α on BMI1 phosphorylation and stability and implicate the CK2α/BMI1 axis in ovarian cancer.