01.09.2016 | Regular Article | Ausgabe 5/2016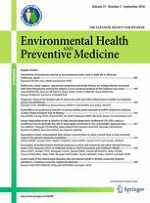 Bodily pain, social support, depression symptoms and stroke history are independently associated with sleep disturbance among the elderly: a cross-sectional analysis of the Fujiwara-kyo study
Zeitschrift:
Autoren:

Yuko Kishimoto, Nozomi Okamoto, Keigo Saeki, Kimiko Tomioka, Kenji Obayashi, Masayo Komatsu, Norio Kurumatani
Abstract
Objective
To investigate independent effects of various factors associated with sleep disturbance among community-dwelling elderly individuals.
Methods
We analyzed data obtained from 3732 individuals aged ≥65 years who responded to a self-administered questionnaire and participated in a structured interview which assessed the Pittsburgh Sleep Quality Index (PSQI), subjective bodily pain, the Jichi Medical School Social Support Scale, the Geriatric Depression Scale (GDS-15), health status, and demographic characteristics. Sleep disturbance was defined as a global PSQI score >5.5, which was used as a dependent variable in multiple logistic regression analysis to determine adjusted odds ratios (ORs) and 95 % confidence intervals (CIs) of related factors.
Results
We identified a significant increase in the adjusted ORs for female (OR 1.56, 95 % CI 1.34–1.83), age ≥80 years (1.31, 1.01–1.69), history of stroke (1.44, 1.08–1.92), and a GDS-15 score ≥6 as compared to 0–2 (2.29, 1.86–2.81), with regard to sleep disturbance. Participants with severe or very severe bodily pain had the highest adjusted OR (3.00, 2.15–4.19), and those with very mild bodily pain also had a relatively high OR (1.30, 1.06–1.60), relative to those without subjective bodily pain. In addition, compared with participants with strong social support from spouse or family, those with weak social support had significantly increased adjusted ORs (1.21, 1.01–1.44, 1.44, 1.23–1.70, respectively).
Conclusions
The present study indicates that sleeping disturbances among the elderly are closely associated with social support from a spouse and family. They are also associated with pain, even at stages in which subjective bodily pain is very mild.