29.03.2019 | Original Article | Ausgabe 7/2019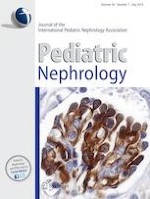 Body composition and arterial stiffness in pediatric patients with chronic kidney disease
Zeitschrift:
Autoren:

Vasiliki Karava, Nikoleta Printza, John Dotis, Despoina Demertzi, Christina Antza, Vasilios Kotsis, Fotios Papachristou, Stella Stabouli
Wichtige Hinweise
Electronic supplementary material
Publisher's note
Springer Nature remains neutral with regard to jurisdictional claims in published maps and institutional affiliations.
Abstract
Background
This study investigated the impact of body composition in the arterial stiffness of children with chronic kidney disease (CKD).
Methods
Fat mass (FM), fat tissue index (FTI), fat-free mass (FFM), fat-free tissue index (FFTI), and FFTI/FTI were measured in 26 patients and 25 healthy controls by bio-impedance analysis. Data on patient's body mass index (BMI) for height-age, serum albumin, glomerular filtration rate (GFR), blood pressure status, and pulse wave velocity (PWV) were collected in patients.
Results
Patients presented lower levels of FM and FFM compared to healthy controls (
p
 = 0.04 and
p
 = 0.055 respectively). In patient group, BMI height-age
z
-score was positively correlated to FTI (
r
2
 = 0.574,
p
 < 0.001) and FFTI (
r
2
 = 0.338,
p
 = 0.001) and negatively correlated to FFTI/FTI (
r
2
 = 0.263,
p
 = 0.007). Serum albumin was positively correlated only with FFM among body composition data (
r
2
 = 0.169,
p
 = 0.037). PWV
z
-score was positively correlated to FFTI (
r
2
 = 0.421,
p
 = 0.006) and inversely correlated to FFTI/FTI ≥ 2.5 (
r
2
 = 0.317,
p
 = 0.003). Patients with FFTI/FTI ≥ 2.5 presented lower levels of PWV regardless the need for antihypertensive treatment. Serum albumin ≥ 3.8 mg/dl and FFTI/FTI ≥ 2.5 were independently associated with a lower risk for high PWV, after adjustment for age, sex, and GFR (OR 0.009, 95% CI 0.000–0.729 and OR 0.039, 95% CI 0.002–0.680). All underweight [2 (7.7%)] and overweight [4 (15.4%)] patients presented high PWV. Among normal weight patients, FFTI/FTI ratio ≥ 2.5 was significantly associated with lower PWV
z
-score (
p
 = 0.013).
Conclusions
Both underweight and overweight are associated with arterial stiffness. Targeting FFTI/FTI ≥ 2.5 could be protective against cardiovascular disease in normal weight children.