01.12.2016 | Research | Ausgabe 1/2016 Open Access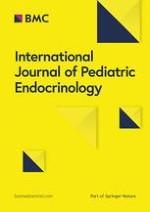 Body mass index in girls with idiopathic central precocious puberty during and after treatment with GnRH analogues
Zeitschrift:
Autoren:

A. J. Arcari, M. G. Gryngarten, A. V. Freire, M. G. Ballerini, M. G. Ropelato, I. Bergadá, M. E. Escobar
Abstract
Background
In girls with Idiopathic Central Precocious Puberty (ICPP) concern has been raised by the potential impact of GnRH-analogues (GnRHa) treatment on body weight. We evaluated the effect of GnRHa on Body Mass Index (BMI) in girls with ICPP according to weight status at diagnosis.
Methods
One hundred seventeen ICPP girls were divided according to pretreatment weight status in: normal weight (NW), overweight (OW) and obese (OB). BMI at one and two years of treatment was assessed. BMI-SDS of 60 patients who reached adult height (AH) was compared to that of 33 ICPP untreated girls.
Results
NW girls significantly increased their baseline BMI-SDS at 1 and 2 years of treatment. OW girls only had a significant increment at one year of treatment while OB girls showed no BMI-SDS change. Patients evaluated at AH (at least four years after GnRHa withdrawal) showed a significant decrease on BMI compared to baseline and a significantly lower BMI than the untreated group.
Conclusion
In ICPP girls the BMI increase under GnRHa was inversely related to the pretreatment weight status. In the long term follow-up, no detrimental effect of GnRHa on body weight was observed. BMI-SDS was lower in treated than in untreated girls.