21.01.2017 | Original Article | Ausgabe 5/2017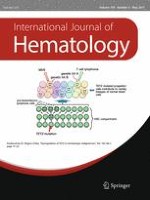 Body mass index is a prognostic factor in adult patients with acute myeloid leukemia
Zeitschrift:
Autoren:

Taiki Ando, Etsuko Yamazaki, Eriko Ogusa, Yoshimi Ishii, Wataru Yamamoto, Kenji Motohashi, Takayoshi Tachibana, Maki Hagihara, Kenji Matsumoto, Masatsugu Tanaka, Chizuko Hashimoto, Hideyuki Koharazawa, Katsumichi Fujimaki, Jun Taguchi, Hiroyuki Fujita, Heiwa Kanamori, Shin Fujisawa, Hideaki Nakajima, On behalf of the Yokohama Cooperative Study Group for Hematology (YACHT)
Wichtige Hinweise
Electronic supplementary material
The online version of this article (doi:
10.​1007/​s12185-017-2183-7
) contains supplementary material, which is available to authorized users.
Abstract
Body mass index (BMI), which represents the proportion of weight to height, is a controversial prognostic factor for acute myeloid leukemia (AML). We evaluated prognostic value of BMI in Japanese AML. The study included 369 adult patients with newly diagnosed AML who were administered either daunorubicin or idarubicin with cytarabine as induction chemotherapy. The patients were categorized into two groups according to their BMI: the NW group (BMI < 25.0 kg/m
2
; normal and underweight) and OW group (BMI ≥ 25.0 kg/m
2
; overweight and obese). We analyzed treatment efficacy and toxicity of induction chemotherapy, and survival outcomes in each group. Patients in the OW group showed a better complete remission rate than the NW group (86.1 versus 76.5%,
P
= 0.045), no early death (0.0 versus 4.1%,
P
= 0.042), and better overall survival (OS) at 3 years (62.2 versus 50.1%,
P
= 0.012). Multivariate analysis showed BMI is an independent prognostic factor for OS (hazard ratio 0.62, 95% confidence interval 0.42–0.92,
P
= 0.017). These results indicate the prognostic value of BMI in adult AML patients.