01.12.2010 | Original paper | Ausgabe 12/2010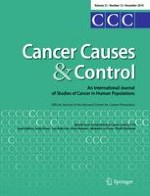 Body size and the risk of ovarian cancer by hormone therapy use in the California Teachers Study cohort
Zeitschrift:
Autoren:

Alison J. Canchola, Ellen T. Chang, Leslie Bernstein, Joan A. Largent, Peggy Reynolds, Dennis Deapen, Katherine D. Henderson, Giske Ursin, Pamela L. Horn-Ross
Abstract
Objective
To investigate whether obesity and hormone therapy (HT) are associated with ovarian cancer risk among women in the California Teachers Study cohort.
Methods
Of 56,091 women age ≥45 years, 277 developed epithelial ovarian cancer between 1995 and 2007. Multivariate Cox regression was performed.
Results
Among women who never used HT, greater adult weight gain, waist circumference and waist-to-height ratio, but not adult BMI, increased risk of ovarian cancer. Compared to women who never used HT and had a stable adult weight, risk of ovarian cancer was increased in women who gained ≥40 lb (relative risk (RR) 1.8, 95% confidence interval (CI): 1.0–3.0) or used HT for >5 years (RR 2.3 95% CI: 1.3–4.1). Having both exposures (RR 1.9, 95% CI: 0.99–3.5), however, did not increase risk more than having either alone. Results were similar for waist circumference and weight-to-height ratio; however, differences across HT groups were not statistically significant.
Conclusions
This study suggests that abdominal adiposity and weight gain, but not overall obesity, increase ovarian cancer risk and that there may be a threshold level beyond which additional hormones, whether exogenous or endogenous, do not result in additional elevation in risk. However, large pooled analyses are needed to confirm these findings.