11.10.2016 | Original Contributions | Ausgabe 4/2017 Open Access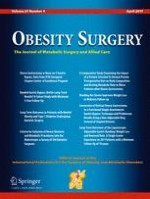 Body Weight Reduction and Biochemical Parameters of the Patients After RYGB and SG Bariatric Procedures in 12-Month Observation
Zeitschrift:
Autoren:

Małgorzata Szczuko, Natalia Komorniak, Monika Hoffmann, Joanna Walczak, Agata Jaroszek, Bartosz Kowalewski, Krzysztof Kaseja, Dominika Jamioł-Milc, Ewa Stachowska
Abstract
Background
The aim of this study was to evaluate the effect of sleeve gastrectomy (SG) and Roux-en-Y-bypass (RYGB) on anthropometric and biochemical parameters, including changes in glucose levels, lipid profile and liver function. Drastic decrease in all lipid fractions a few weeks or months after the surgery could be regarded as favourable, but low level of HDL is an independent risk factor for heart diseases. Extreme load on the liver without preparation of the patient to the surgery can have negative consequences.
Methods
The test group comprised of 40 female patients at the age of 42.96 with average body weight of 131.56 kg and BMI 46.49. Biochemical analyses were performed using calorimetric method.
Results
No statistically significant differences were observed in glucose levels between the two types of procedures. The highest differences were noted for triglycerides levels, which decreased, as well as all cholesterol fractions, after RYGB, but were increasing during the first months after SG procedure. Changes in lipid profile, caused by the reduction of all lipid fractions, were more visible after RYGB. The decrease in total cholesterol directly and activity of liver enzymes after the procedure was as higher after RYGB as after SG. Increased activity of transaminases indicates significant liver overload.
Conclusions
With the selection of groups of patients with similar initial parameters, it is not clear whether the differences between the two procedures when assessing the improvement of glycaemia are significant. However, due to invasive character of RYGB, liver overload lasting several months and lifelong limited absorption of nutrients, the possibility of SG procedure should be considered as a first option.