01.09.2016 | Dental Restorative Materials (M Özcan, section editor) | Ausgabe 3/2016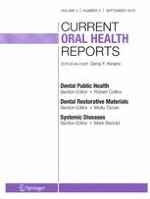 Bonding of Dental Ceramics to Titanium: Processing and Conditioning Aspects
Zeitschrift:
Autoren:

Maja Antanasova, Peter Jevnikar
Wichtige Hinweise
This article is part of the Topical Collection on
Dental Restorative Materials
Abstract
Difficulties related to titanium processing (casting) and the problematic titanium-ceramic bond have been limiting the latter's application in prosthetic dentistry for many years. Recent advances in subtractive and additive CAD/CAM technologies have provided alternative routes for titanium processing. The effect of a processing route on titanium surface characteristics and on the strength of its bond to porcelain need to be assessed, since most paths for enhancing porcelain bonding involve preparation of the titanium surface. Several approaches to bond enhancement have been proposed, some of which are widely accepted (abrasion by airborne-particle and application of a bonding agent), while others have not resulted in a clinical breakthrough. Despite efforts to improve titanium bonding to porcelain and to develop titanium compatible, low-fusing porcelains, many in vitro studies report bond strengths to titanium that are inferior to those for base metals and noble dental alloys. Only a few clinical studies have been reported, revealing that titanium-ceramic restorations are susceptible to mechanical complications (porcelain fractures in 33 % of cases). Current knowledge on titanium-ceramic bonding is here reviewed, focusing on the recent attempts to overcome the limitations of the system and on recent advances in titanium processing. Optimization of the currently available processing and surface conditioning methods seems to be necessary. Although most of the proposed surface preparation methods (surface coating and roughening) appear to show a certain degree of porcelain bond improvement, many of them require application of additional complex procedures. Simplification and improved efficiency therefore appear to be the essentials for implementation of these methods in clinical practice.