01.12.2017 | Research article | Ausgabe 1/2017 Open Access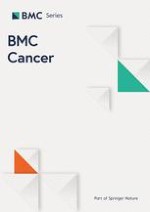 Bone marrow-derived mesenchymal stem cells induced by inflammatory cytokines produce angiogenetic factors and promote prostate cancer growth
Zeitschrift:
Autoren:

Ke-Qin Yang, Yan Liu, Qing-Hua Huang, Ning Mo, Qing-Yun Zhang, Qing-Gui Meng, Ji-Wen Cheng
Wichtige Hinweise
Electronic supplementary material
Abstract
Background
Prostate is susceptible to infection and pro-inflammatory agents in a man's whole life. Chronic inflammation might play important roles in the development and progression of prostate cancer. Mesenchymal stem cells (MSCs) are often recruited to the tumor microenvironment due to local inflammation. We have asked whether stimulation of MSCs by pro-inflammatory cytokines could promote prostate tumor growth. The current study investigated the possible involvement of MSCs stimulated by pro-inflammatory cytokines in promotion and angiogenesis of prostate cancer through relative pathway in vitro and in vivo.
Methods
A syngeneic mouse model of C57 was established. The murine prostate cancer cells (RM-1) mixing with MSCs treated with tumor necrosis factor alpha (TNF-α) and interferon gamma (IFN-γ) or vehicle were subcutaneously injected into C57 mice. Tumor volume of C57 mouse model was estimated and serum level of platelet-derived growth factor (PDGF) and vascular endothelial growth factor (VEGF) was test by Enzyme-linked Immunosorbent Assay (ELISA). A hen egg test-chorioallantoic membrane (HET-CAM) assay was applied to test the effect of conditioned media of stimulated MSCs in chorioallantoic membrane angiogenesis. Short interfering RNA (siRNA) knocked down either hypoxia-inducible factor-1alpha (HIF-1α) or nuclear factor-erythroid-2-related factor 2 (NRF2) were employed. mRNA of PDGF and VEGF in MSCs, as well as NRF2 and HIF-1α was test by Real time polymerase chain reaction (PCR) analyses. Protein expression levels of PDGF and VEGF from conditioned medium, NRF2, HIF-1α, as well as PDGF and VEGF in MSCs were detected by Western blot analysis.
Results
MSCs treated with TNF-α and IFN-γ promote tumor growth in C57 syngeneic mouse model, correlating with increased serum level of PDGF, VEGF. HET-CAM assay shows the angiogenic effect of conditioned medium of MSCs pre-treated with the pro-inflammatory cytokines. mRNA and protein levels of two pro-angiogenic factors (PDGF and VEGF) and key hypoxia regulators (HIF-1α and NRF2) in MSCs were induced after MSCs' pretreatment. siRNA knockdown either HIF-1α or NRF2 results reduction of PDGF and VEGF expression.
Conclusions
MSCs stimulated by pro-inflammatory cytokines increase the expression of PDGF and VEGF via the NRF2-HIF-1α pathway and accelerate prostate cancer growth in mice.