01.12.2018 | Research article | Ausgabe 1/2018 Open Access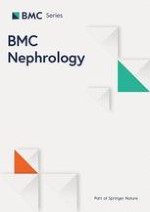 Bone marrow mesenchymal stem cells attenuate the progression of focal segmental glomerulosclerosis in rat models
Zeitschrift:
Autoren:

Ru-chun Yang, Xiao-ling Zhu, Jun Wang, Feng Wan, Hua-qin Zhang, Yi Lin, Xuan-li Tang, Bin Zhu
Abstract
Background
Focal segmental glomerulosclerosis (FSGS) is the most common glomerular etiology of end-stage kidney disease (ESKD). Increasing evidence has indicated the reparative potential of mesenchymal stem cells (MSCs) in damaged diseased kidneys. However, the effect of bone marrow mesenchymal stem cells (BMSCs) on the FSGS progression remains unclear. This study aimed to investigate the protective effects of BMSCs on FSGS progression.
Methods
A rat model of FSGS was generated via unilateral nephrectomy plus adriamycin injection. Rat BMSCs were isolated and characterized on the basis of their differentiative potential towards adipocytes and osteoblasts and via flow cytometry analysis. Thereafter, rat BMSCs were transplanted into FSGS recipients through the caudal vein. After 8 weeks, 24-h proteinuria, serum creatinine, and urea nitrogen levels were determined. Renal morphology was assessed using a light and transmission electron microscope. MMP9 and TIMP-1 positive cells were detected via immunohistochemical analysis. Expression levels of proinflammatory cytokines IL-6 and TNF-α were examined via RT-PCR.
Results
The isolated adherent cells from the bone marrow of rats were phenotypically and functionally equivalent to typical MSCs. Clinical examination revealed that BMSC transplantation reduced the 24-h urinary protein excretion, and serum creatinine and urea nitrogen levels. Renal morphology was ameliorated in BMSCs-transplanted rats. Mechanistically, BMSC transplantation significantly downregulated TIMP-1 and upregulated MMP9, thereby increasing the renal MMP9/TIMP-1 ratio. Moreover, BMSC transplantation also downregulated IL-6 and TNF-α.
Conclusions
BMSC transplantation can attenuate FSGS progression in a rat model of FSGS, thereby providing a theoretical foundation for the application of autologous BMSCs in clinical FSGS therapy.