01.12.2018 | Case report | Ausgabe 1/2018 Open Access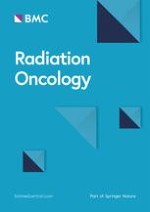 Bone marrow suppression as a complication of total skin helical tomotherapy in the treatment of mycosis fungoides
Zeitschrift:
Autoren:

Eric M. Schaff, Stephen A. Rosenberg, Stephanie J. Olson, Steven P. Howard, Kristin A. Bradley
Abstract
Background
Total skin electron beam therapy (TSEBT) is an effective treatment in mycosis fungoides. Total skin helical tomotherapy (TSHT) may be an alternative to TSEBT and may offer several dosimetric and treatment advantages. There are currently very few published treatment results using TSHT in place of TSEBT for treatment of mycosis fungoides.
Case presentation
Two patients with mycosis fungoides were treated at our institution using TSHT. The first patient was a 69-year-old Caucasian female with stage IVA2 (T2 N3 M0 B2) disease who was treated to a dose of 12 Gy in 8 fractions, with a bone marrow mean dose of 1.66 Gy and V10 = 0.41%. Two weeks after ending treatment the patient developed myelosuppression including grade 4 thrombocytopenia and required blood and platelet transfusions. The second patient was a 29-year-old Caucasian female with stage I (T2 N0 M0 B0) disease. This patient previously had been treated for mycosis fungoides using helical tomotherapy (HT) at a dose of 20 Gy to a localized region and experienced mild thrombocytopenia at that time. The patient then underwent retreatment 17 months later with TSHT to a dose of 12 Gy in 6 fractions with a mean bone marrow dose of 2.3 Gy and V10 = 4.28%. This patient once again experienced myelosuppression that included grade 4 thrombocytopenia. She also required blood and platelet transfusions.
Conclusions
Both patients treated with TSHT experienced severe bone marrow suppression including grade 4 thrombocytopenia. This was more severe than expected considering the relatively low overall prescription dose and despite a planning constraint placed on the bone marrow of a mean dose of < 2 Gy. These outcomes suggest that patients treated using TSHT should be closely monitored for myelosuppression and caution used even when treating to a dose of 12 Gy.