01.12.2019 | Research article | Ausgabe 1/2019 Open Access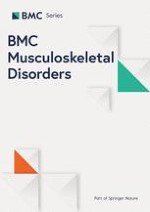 Bone microarchitectural parameters can detect oxytocin induced changes prior to bone density on mitigating bone deterioration in rabbit osteoporosis model using micro-CT
Zeitschrift:
Autoren:

Yuyou Qiu, Cuisong Tang, Mario Serrano-Sosa, Jian Hu, Jingqi Zhu, Guangyu Tang, Chuan Huang, Mingqian Huang
Wichtige Hinweise
Yuyou Qiu and Cuisong Tang contributed equally to this work.
Supplementary information
Publisher's Note
Springer Nature remains neutral with regard to jurisdictional claims in published maps and institutional affiliations.
Abstract
Background
This study is aimed to determine the efficacy of X-Ray Microtomography (micro-CT) in predicting oxytocin (OT) treatment response in rabbit osteoporosis(OP) model.
Methods
Sixty-five rabbits were randomly divided into three groups: control group, ovariectomy (OVX) -vehicle and OVX-oxytocin group. The controls underwent sham surgery. OVX-vehicle and OVX-oxytocin groups were subjected to bilateral OVX. The rabbits in OVX-oxytocin group were injected with oxytocin. In the 0th, 4th, 8th, 10th and 12th weeks post OVX operation, bone mineral density (BMD) and bone micro-architectural parameters were measured in three groups.
Results
Bone mineral density (BMD), bone volume fraction (BV/TV), Trabecular Number (Tb.N), and Trabecular Thickness (Tb.Th) decreased, while Trabecular Spacing (Tb.Sp) and Structure Model Index (SMI) increased overtime in all the three groups. In OVX-oxytocin group, the bone deterioration tendency is slowing down compared with that of the OVX-vehicle group. The BMD of the OVX-oxytocin group was significantly lower than those in the OVX-vehicle group at 12th week (
P
 = 0.017). BV/TV and Tb.Sp in OVX-oxytocin group changed significantly from 8th week (
P
 = 0.043) and 12th week (
P
 = 0.014), which is earlier than that of BMD and other bone micro-architectural parameters.
Conclusion
BV/TV and Tb.Sp changed prior to BMD and other bone micro-architectural parameters with oxytocin intervention, which indicate that they are more sensitive markers for predicting early osteoporosis and treatment monitoring when using micro-CT to evaluate osteoporosis rabbit model.