01.12.2015 | Research article | Ausgabe 1/2015 Open Access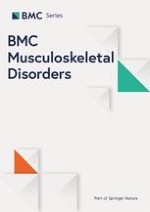 Bone mineral density after implantation of a femoral neck hip prosthesis – a prospective 5 year follow-up
Zeitschrift:
Autoren:

Wolfram Steens, Friedrich Boettner, Rainer Bader, Ralf Skripitz, Alberto Schneeberger
Wichtige Hinweise
Competing interests
The authors declare that they have no competing interests.
Authors' contributions
WS: study conception, writing of manuscript, final analysis and interpretation of data, FB: drafting and critical revising of manuscript, RB: acquisition of data, blinded analysis and interpretation of data. RS: acquisition of data, AS: conception and study design, drafting of manuscript, approval of statistics. All authors read and approved the final manuscript.
Abbreviations
DEXA
dual-energy x-ray absorptiometry
WOMAC
Western Ontario and Mc Master Universities Arthritis Index
Background
Mechanical load forces in total hip arthroplasty continuously expose bone to remodeling processes according to Wolff's law depending on implant size, geometry and stiffness. Muscle activity also has a significant influence on the entire bone density triggering an increase of bone mass and bone strength [
1
–
3
]. Conversely, immobilization and inactivity atrophy causes a decrease of bone mass. The degree of bone mineralization is a fundamental determinant of bone quality and correlates with bone stability [
4
,
5
]. But influence of bone mineral density on implant migration after surgery still remains unclear [
6
]. The Norwegian Arthroplasty Register reports a potential risk of aseptic loosening concomitant to decrease of bone mineral density [
7
]. Considerable periprosthetic bone resorption in the proximal femur due to stress shielding has been observed after total hip arthroplasty with medullary fixation [
8
–
10
]. Therefore, proximal load transfer to the trochanteric region should probably be aimed in modern implant designs. Conventional implants have shown a constant decrease of periprosthetic bone mineral densitiy (BMD) in the proximal femur, as demonstrated by dual-energy x-ray absorptiometry (DEXA) especially over the course of the first year following surgery [
11
,
12
]. Short femoral-neck implants are claiming less interference with the biomechanics of the proximal femur. The mean age of patients requiring total hip replacement is constantly decreasing. The Swedish Hip Arthroplasty Register reports an implant survival of 75 % at 14 years for male patients younger than 50 years, compared to a survival of 84 % for male patients between the age of 60 and 75 years [
13
]. Although the reasons for failure in the group of young patients is multifactorial, short stemmed femoral shaft prostheses have the theoretical advantage to preserve bone at the initial implantation and ideally maintain this amount of bone over time for upcoming revisions. While long-term results for this group of implants have not been reported, the concept has been supported by in vitro studies using composite and cadaver femora models [
14
–
16
]. The primary goal of this study was to prospectively investigate the in vivo changes of bone-mineral density as a parameter of bone remodeling around a short, femoral neck prosthesis over the first 5 years following implantation. The secondary goal was to report on its clinical outcome.
Methods
20 consecutively treated young aged patients with a cementless short stemmed total hip replacement were included in this study. Indication for primary arthroplasty was osteoarthritis of the hip joint due to developmental dysplasia of the hip in 9 cases, primary oestoarthritis in 7 cases and avascular necrosis of the femoral head in 3 cases. There were 8 female and 12 male patients. The median age at the time of surgery was 49 years (17–67) and at the time of last follow-up examination 54 years (21–73). The average weight and height of the female (and male) patients at the time of surgery were 70 ± 9.9 kg (85 ± 11.8 kg), 169 ± 3.9 cm (177 ± 9.5 cm), Body Mass Index (BMI) 25 ± 3.9 (27 ± 2.8). The right hip was affected in 12, the left in 8 cases. The femoral implant used in all cases was an uncemented, "stemless" ESKA CUT 2000 femoral neck prosthesis (ESKA Orthodynamics, Luebeck, Germany). It is made of cobalt-chrome-molybdenum alloy (CoCrMo) and has a macroporous surface structure (Fig.
1
). It's available in different lengths (50–100 mm) and diameters (19 – 29 mm). The proximal part of the prosthesis is oval in shape. The distal, curved part becomes narrower at its tip. The shape of the prosthesis is neutral for use on both the left and the right side. This implant was used only for patients not older than 65 years and only for those patients that had a physiological collum-center-diaphysis angle (CCD). For implantation of this "stemless" prosthesis, only the femoral head is resected while the complete femoral neck is preserved to support the implant. Its distal part is meant to firm up on the lateral cortical bone just below the greater trochanter. A cold- sealed modular conus adapter (12/14 mm) with adaptable angles (10° and 20°) was used to restore offset and anteversion of the femoral neck. In all cases, a ceramic head was used in combination with a polyethylene-insert (PE) in a cementless press-fit acetabular component. Surgery incidentally was performed by 3 senior consultants of the same department. The post-operative treatment regime included weight bearing as tolerated during a 10 to 14-day inpatient stay and a following three-week stay in a rehabilitation facility. At 3 months follow-up, all patients had been able to bear full weight for at least 6 weeks. Using crutches was mandatory for the first 3 weeks. After institutional review board (Ethikkommission of Westfalian Wilhelms-University of Muenster – No 2008008fS) approval and informed consent, 20 patients were examined by an unbiased examinator preoperatively, at 10 days, 3 months, 12 months and 60 months postoperatively. One patient died after the 12 months-follow-up examination of unrelated causes to surgery. Therefore, only 19 patients were available at last follow-up at 60 months after surgery. The Western Ontario and Mc Master Universities Arthritis Index (WOMAC) and the Harris Hip Score (HHS) as disease specific tests after of total hip replacement were recorded [
17
,
18
]. For this study, the WOMAC's German version was used, which has been shown to be a valid and liable instrument to assess symptoms and physical function disability in patients with hip osteoarthritis [
19
]. To determine femoral periprosthetic bone density, DEXA was performed at the 10 day-, 3 month, 12 month and 60 month-follow-up, using a Norland Eclipse Scanner (Norland, Ft. Atkinson, WI, USA). Measurements of a calibration phantom were performed daily before scanning the patients. A standardized blinded scanning procedure and positioning of the patients and the replaced hip joint were performed to guarantee a high accuracy of the measurements, as requested by Cohen and Rushton [
20
]. Densitometric measurement of the non-operated side was performed with each measurement of the operated hip to rule out a possible systemic bone density loss in every case. There were no patients with bilateral total hip replacement. A software designed for the measurement of bone mineral density adjacent to metal implants was used (Norland DxA Version 3.9.4) on a Norland PC (NPC-200). Seven regions of interest (ROI) were determined according to a modified classification of Gruen to respect the specific dimensions of the femoral implant [
21
] (Fig.
2
). Because of the relatively small dimensions of the implant, and the congruously small zones compared to conventional prosthesis, the lateral zones 1, 2 and 3 were later combined to a single lateral value (ROI lat) and the zones 5,6 and 7 combined to a single medial value (ROI med). Bone mineral density around the whole implant was also calculated (ROI all). Periprosthetic BMD was measured longitudinally at the four postoperative follow-ups. At each measurement, the change in BMD was compared with the baseline 10 days after surgery and calculated as the BMD change in percent in each of the 7 primary and 3 combined regions of interest. For statistical analysis JMP IN statistical software (SAS Institute Inc, NC, USA) for Macintosh was used in its version 5.1.2 by a statistician blinded to the study At first the presuppositions for a normal distribution were tested. The Wilcoxon signed-ranks test was used to statistically compare the density changes over the 60 months following surgery. The level of significance for all statistical analyses was set at alpha = 5 %.
×
×
Results and discussion
Conclusion
The current study shows that implantation of a short femoral neck stem particularly leads to a significant decreasing bone density in only one region of interest (#5) which is different to the changes in bone mineral density seen in conventional implants. Long-term studies are necessary to analyze the long-term influence of this observation and to identify possible advantages on the revision rate of this type of stem design. The secondary goal of the study reveals an excellent clinical outcome which might be influenced by the younger age of the population and is equal to clinical results of long term established conventional implants. Summing it up beside a good clinical mid-term behavior this implant presents a biomechanic rationale and a perspective of revision able to place it in the foreground of conventional implants especially in younger aged patients. The conclusion of this study is limited because of the relatively small number of non- randomized patient selection and the fact that it is not a clinical trial.
Acknowledgements
The authors thank Philipp Mueller for performing blinded densitometric measurements.
Open Access
This article is distributed under the terms of the Creative Commons Attribution 4.0 International License (
http://​creativecommons.​org/​licenses/​by/​4.​0/​
), which permits unrestricted use, distribution, and reproduction in any medium, provided you give appropriate credit to the original author(s) and the source, provide a link to the Creative Commons license, and indicate if changes were made. The Creative Commons Public Domain Dedication waiver (
http://​creativecommons.​org/​publicdomain/​zero/​1.​0/​
) applies to the data made available in this article, unless otherwise stated.
Competing interests
The authors declare that they have no competing interests.
Authors' contributions
WS: study conception, writing of manuscript, final analysis and interpretation of data, FB: drafting and critical revising of manuscript, RB: acquisition of data, blinded analysis and interpretation of data. RS: acquisition of data, AS: conception and study design, drafting of manuscript, approval of statistics. All authors read and approved the final manuscript.