05.04.2016 | Original Article | Ausgabe 8/2016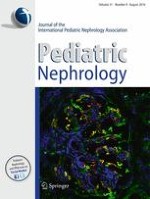 Bortezomib may stabilize pediatric renal transplant recipients with antibody-mediated rejection
Zeitschrift:
Autoren:

Meghan H. Pearl, Anjali B. Nayak, Robert B. Ettenger, Dechu Puliyanda, Miguel Fernando Palma Diaz, Qiuheng Zhang, Elaine F. Reed, Eileen W. Tsai
Abstract
Background
Current therapeutic strategies to effectively treat antibody-mediated rejection (AMR) are insufficient. Thus, we aimed to determine the benefit of a therapeutic protocol using bortezomib for refractory C4d + AMR in pediatric kidney transplant patients.
Methods
We examined seven patients with treatment-refractory C4d + AMR. Immunosuppression included antithymocyte globulin or anti-CD25 monoclonal antibody for induction therapy with maintenance corticosteroids, calcineurin inhibitor, and anti-metabolite. Estimated glomerular filtration rate (eGFR) calculated by the Schwartz equation, biopsy findings assessed by 2013 Banff criteria, and human leukocyte antigen (HLA) donor-specific antibodies (DSA) performed using the Luminex single antigen bead assay were monitored pre- and post- bortezomib therapy.
Results
Seven patients (86 % male, 86 % with ≥6/8 HLA mismatch, and 14 % with pre-formed DSA) age 5 to 19 (median 15) years developed refractory C4d + AMR between 1 and 145 (median 65) months post-transplantation. All patients tolerated bortezomib. One patient had allograft loss. Of the six patients with surviving grafts (86 %), mean pre-bortezomib eGFR was 42 ml/min/1.73 m2 and the mean 1 year post-bortezomib eGFR was 53 ml/min/1.73 m2. Five of seven (71 %) had improvement of histological findings of AMR, C4d staining, and/or acute cellular rejection. Reduction in HLA DSAs was more effective for class I than class II.
Conclusions
Bortezomib appears safe and may correlate with stabilization of eGFR in pediatric kidney transplant patients with refractory C4d + AMR.