23.11.2016 | Original Article | Ausgabe 2/2017 Open Access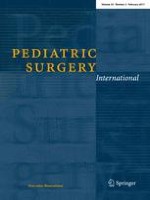 Bowel perforation after liver transplantation for biliary atresia: a retrospective study of care in the transition from children to adulthood
Zeitschrift:
Autoren:

Yusuke Yanagi, Toshiharu Matsuura, Makoto Hayashida, Yoshiaki Takahashi, Koichiro Yoshimaru, Genshirou Esumi, Tomoaki Taguchi
Wichtige Hinweise
This retrospective study was performed according to the Ethical Guidelines for Clinical Research published by the Ministry of Health, Labor and Welfare of Japan on July 30, 2003 (revised 2008) and complies with the Helsinki Declaration of 1964 (revised 2008). All parents or guardians of the infants in this study gave informed consent prior to their inclusion in this study.
Abstract
Purpose
We evaluated the outcomes of liver transplantation (LT) in pediatric and adult patients with biliary atresia (BA). We focused on bowel perforation after LT (BPLT) as the most common surgical complication and analyzed its risk factors.
Methods
This was a retrospective analysis of 70 BA patients who underwent LT. The patients were divided into three groups according to the timing of LT: within the first year of age (Group A), between 1 and 12 years of age (Group B), and after 12 years of age (Group C). The outcomes of LT and the clinical presentations of BPLT were compared. The surgical variables of patients with and without BPLT were analyzed to assess the risk factors.
Results
The timing of LT did not affect patient survival. The incidence of BPLT was significantly higher in Group C. In Group C, BPLT progressed to severe peritonitis. No cases of BPLT-associated mortality were observed. A multivariate analysis revealed that a prolonged operative time for LT was an independent risk factor (
p
= 0.03).
Conclusion
The clinical course after transplantation was complicated after adolescence. BPLT should be strongly suspected and relaparotomy should be performed in a timely manner for patients undergoing LT after adolescence.