28.04.2016 | Ausgabe 2/2016 Open Access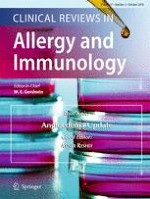 Bradykinin: Inflammatory Product of the Coagulation System
Zeitschrift:
Autoren:

Zonne Hofman, Steven de Maat, C. Erik Hack, Coen Maas
Abstract
Episodic and recurrent local cutaneous or mucosal swelling are key features of angioedema. The vasoactive agents
histamine
and
bradykinin
are highly implicated as mediators of these swelling attacks. It is challenging to assess the contribution of
bradykinin
to the clinical expression of angioedema, as accurate biomarkers for the generation of this vasoactive peptide are still lacking. In this review, we will describe the mechanisms that are responsible for
bradykinin
production in hereditary angioedema (HAE) and the central role that the coagulation factor XII (FXII) plays in it. Evidently, several plasma parameters of coagulation change during attacks of HAE and may prove valuable biomarkers for disease activity. We propose that these changes are secondary to vascular leakage, rather than a direct consequence of FXII activation. Furthermore, biomarkers for fibrinolytic system activation (i.e.
plasminogen
activation) also change during attacks of HAE. These changes may reflect triggering of the
bradykinin-
forming mechanisms by
plasmin
. Finally, multiple lines of evidence suggest that neutrophil activation and mast-cell activation are functionally linked to
bradykinin
production. We put forward the paradigm that FXII functions as a 'sensor molecule' to detect conditions that require
bradykinin
release via crosstalk with cell-derived enzymes. Understanding the mechanisms that drive
bradykinin
generation may help to identify angioedema patients that have
bradykinin
-mediated disease and could benefit from a targeted treatment.