03.02.2021 | Short Communication | Ausgabe 3/2021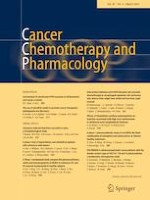 BRAF/MEK inhibitors for BRAF V600E-mutant cancers in non-approved setting: a case series
Zeitschrift:
Autoren:

Sabeeh-ur-Rehman Butt, Alberto Mejias, Cristina Morelli, Gonzalo Torga, Marlene Happe, Anna Patrikidou, Hendrik-Tobias Arkenau
Wichtige Hinweise
Publisher's Note
Springer Nature remains neutral with regard to jurisdictional claims in published maps and institutional affiliations.
Abstract
The management of cancer has been traditionally dependent on the primary tumour type and specific histologic subtypes. Recently, the introduction of molecular profiling tools and its increasing use in clinical practice has facilitated the emergence of novel genomically driven treatment options within the standard of care landscape as well as in the clinical trial setting. One such aberration is mutation in v-Raf murine sarcoma viral oncogene homolog B (BRAF), which results in hyperactivation of RAS-RAF-MEK-ERK signaling in the Mitogen-activated protein kinases (MAPK) pathway. BRAF and Mitogen-activated protein kinase, extracellular signal-regulated kinase kinase (MEK) inhibitors, although being currently approved for melanoma, non-small cell lung cancer (NSCLC) and colon cancer, have reported activity across other various cancers harbouring BRAF aberrations. It has been proposed that combined MEK and BRAF inhibition could overcome the acquired resistance commonly developed among patients receiving BRAF or MEK inhibitors as monotherapy. We report five cases of BRAF V600E (substitution of glutamic acid for valine in codon 600) aberrant refractory metastatic cancers treated with dual BRAF/MEK combination inhibitor therapy leading to an excellent clinical and radiological response and protracted duration of disease control.