01.12.2019 | Review | Ausgabe 1/2019 Open Access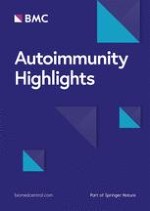 Brain atrophy in multiple sclerosis: mechanisms, clinical relevance and treatment options
Zeitschrift:
Autoren:

Athina Andravizou, Efthimios Dardiotis, Artemios Artemiadis, Maria Sokratous, Vasileios Siokas, Zisis Tsouris, Athina-Maria Aloizou, Ioannis Nikolaidis, Christos Bakirtzis, Georgios Tsivgoulis, Georgia Deretzi, Nikolaos Grigoriadis, Dimitrios P. Bogdanos, Georgios M. Hadjigeorgiou
Wichtige Hinweise
Athina Andravizou and Efthimios Dardiotis shared first authorship
Publisher's Note
Springer Nature remains neutral with regard to jurisdictional claims in published maps and institutional affiliations.
Introduction
Pathogenesis of brain atrophy
The time trajectory of brain atrophy
Pathogenesis of acute demyelination and axonal injury
Mechanisms of late axonal loss (Fig. 1)
While the destruction of CNS myelin is associated with clinical relapses, acute or late axonal loss is considered to be the main cause of permanent clinical disability in MS [
49
]. Axons are more vulnerable to acute injury by inflammatory mediators, due to their shape and structure, compared to cell bodies or dendrites [
43
], while thin axons (< 2.5 μm in diameter) are mainly affected [
24
,
58
]. Neurofilament light chain (NfL) protein is only expressed in neurons. It is an essential component of the axonal cytoskeleton, and reflects the axonal integrity and the stability of neurons. Under conditions of acute axonal transection, NfL are released and can be found as a result, in the cerebrospinal fluid (CSF) and blood of patients with MS. Of note, ultra high versus low blood NfL levels have been associated with MRI related (increased number of gadolinium enhancing or T2 lesion load, whole brain atrophy) and clinical measures (number of relapses, disability worsening) of disease activity and evolution and may, therefore, have prognostic value for patients and clinicians [
59
].
×
Transected axons and ovoids are abundant in MS lesions [
9
,
27
] but, abnormalities have also been reported in chronic inactive plaques, in normal appearing white matter (NAWM), and cortical areas, in which inflammation is less prominent [
48
,
57
]. Therefore, additional mechanisms of axonal loss coexist with disease progression. It should be noted that these mechanisms have been postulated for both acute and late axonal loss (i.e. "late" signifying the absence of apparent inflammation):
Ion overload
Several ion channels show compensatory changes a few weeks after demyelination [
60
] a process that eventually promotes energy deficiency, and neurodegeneration. Aberrant expression of sodium channels, acid sensing ion channels, increased expression of maladaptive isoforms (i.e. Na
v
1.6 channels) [
61
], paranodal (Caspr) and juxtparanodal (K
v
1.2) protein alterations [
62
] have also been detected in WM lesions, in NAWM, and GM. Alternation in the expression of these ion channels lead to intra-axonal calcium accumulation, and subsequent axonal degeneration and atrophy, particularly in secondary progressive MS [
49
].
Mitochondria dysfunction
There has been increasing interest in the role of mitochondrial injury in MS demyelination and axonal destruction. In acute inflammatory lesions mitochondrial nicotinamide adenine dinucleotide-hydrogen (NADH) oxidase [
63
] and complex IV defects (COX I) have been described, in axons, oligodendrocytes, and astrocytes [
58
]. In chronic inactive plaques, ionic imbalance and high energy demands result to swollen and dysfunctional mitochondria [
64
,
65
], a phenomenon in which is partially reversed in remyelinating axons [
66
]. There are also additional mtDNA deletions in GM structures of patients with SPMS [
67
]. Furthermore, the respiration deficient neurons were diffusely distributed in the subcortical WM resulting in axonal loss in the absence of demyelination or inflammation. In oligodendrocytes, mitochondrial damage results in cell death and demyelination. Progenitor cells are also impaired, regarding their capacity to differentiate and produce myelin [
48
]. Plus, genetic defects in mitochondrial genes potentiate MS lesions [
68
]. From what can be deducted, mitochondrial dysfunction, in neurons and glia, is recognized as an important cause of atrophy and degeneration in MS and in other primarily neurodegenerative deceases such as Alzheimer's disease and Parkinson's disease [
65
,
69
].
Iron dysregulation
Iron [Fe] loading accumulates with age and in patients with MS, it can further increase oxidative tissue loss. In the CNS, iron is mainly stored in oligodendrocytes, binding with ferritin. Under conditions of oxidative stress, such as MS lesions, when oligodendrocytes are destroyed, free iron [Fe
2+
] is released in the extracellular space and becomes an additional source of reactive oxygen species (Fenton reaction: Fe
2+
 + H
2
O
2
 = Fe
3+
 + OH. + OH−) [
48
]. Further, iron is released by activated glial cells, which become dystrophic and disintegrate, leading to a second wave of Fe
2+
release.
Diffuse T2hypointenselesions, which represent increased iron deposition [
70
] are commonly found in patients with MS in cortical and deep GM areas (i.e. thalamus, basal ganglia, dentate nucleus [
71
–
73
] and WM plaques [
74
]. Notably, T2 hypointensity has been associated with brain atrophy and early axonal loss [
73
]. Furthermore, in progressive MS, there is a significant decrease in iron levels in NAWM [
75
]. Iron is important for myelin synthesis and neurogenesis, and iron depletion in normal appearing tissue, may further promote diffuse axonal loss and CNS atrophy.
Glutamate excitotoxicity
Several lines of evidence suggest that glutamate could also mediate injury to myelin, oligodendrocytes and neurons in the autoimmune experimental encephalomyelitis (EAE) model and in MS [
76
]. Glutamate levels are elevated in CSF [
77
], in the centre of active plaques, on the borders of chronic active lesions [
78
], and in NAWM [
79
].
There are two factors intertwining for glutamate accumulation: increased glutamate production by activated microglial cells and lymphocytes, and impaired clearance by resident cells such as astrocytes. High levels of glutamate lead to the over-activation of
N
-methyl-
d
-aspartate (NMDA) and α-amino-3-hydroxy-5-methyl-4-isoxazolepropionic acid (AMPA) [
80
] receptors (permeable for calcium and sodium ions) and subsequent calcium overload and oligodendocyte and neuron cell death.
Clinical correlates of brain atrophy
Clinical symptoms and signs do not usually correlate with changes seen on conventional MRI measures (the "clinical-MRI paradox") [
81
,
82
]. Whole brain atrophy, on the other hand, has a significant imaging association with physical disability as measured by Expanded Disability Status Scale (EDSS) score [
83
–
88
]. In a longitudinal study, whole brain (WB) and cortical atrophy as well as other MRI related metrics such as the enlargement of ventricular CSF spaces have been associated with disability progression over a 10 year follow up [
89
]. Furthermore, brain volume changes during the first year after disease onset, estimated by PBVC, were the best predictor of future neurologic impairment [
90
] regardless of the intermediate relapse rate [
91
]. Increased brain volume loss (BVL) has been correlated disability progression, independent from the number of previous relapses or the T2 lesion load in RRMS [
92
].
In a similar vein, when patients with clinically definite MS were compared to patients with clinically isolated syndrome (CIS), at baseline, all brain volume metrics, except for cortical GM, were significantly lower in the MS cohort. Over a mean follow-up period of about 3 years, the annual PBVC values were significantly lower in CIS patients when compared to the MS cohort [
93
]. Neuropsychological impairment, affecting mental speed processing, episodic memory, executive functions and attention, may be present in up to 50% of patients with MS [
94
] and has been found to occur early in the disease course [
95
]. Changes of brain parenchymal fraction (BPF) have been shown to predict cognitive impairment over 2 years in patients with early MS [
96
]. Cortical atrophy was the best predictor of poor cognitive functioning, even when mild impairment was detected. Poorcognitive functioning has been associated with significant cortical thinning [
97
], especially in the fronto-parietal cortical and subcortical regions [
98
]. Pravatà et al. [
98
] specifically reported that the thinning of the right precuneus and high T2 lesion load were the best predictors of cognitive impairment. Strong correlations have also been reported between cognitive impairment and thalamic atrophy [
80
,
98
,
99
]. Not surprisingly, patients with brain atrophy and higher education or high "cognitive reserve" are relatively protected against cognitive decline [
100
].
Other clinical aspects of CNS atrophy include mood and personality disorders (i.e. euphoria, disinhibition, aggression, major depressive disorder) [
101
] autonomic dysfunction and sexual disorders [
85
]. Fatigue has been reported to be associated with GM atrophy in frontal regions [
102
] and depressed patients were found to present selective cortical thinning in the fronto-temporal regions, while the frontal thinning was found to be the best predictor for depression in MS patients [
98
].
Taken together, this growing body of evidence suggests that brain atrophy is a valid and sensitive measure of disease burden and progression in MS patients and may effectively be used in routine clinical practice and treatment trials.
Effect of disease modifying treatments (Tables 1, 2 and 3)
Approved DMTs and brain volume outcomes
Emerging DMTs and their effect on PBVC
Several new agents are currently undergoing clinical development, including immuno-modulatory, neuroprotective or remyelinating compounds.
Laquinimod, a linomide derivative, has also shown promising results on PVC rates in RRMS, most probably as a result of reduced astrocytic activation within the CNS [
156
]. In the ALLEGRO clinical trial, after adjusting for baseline active inflammation, laquinimod markedly reduced BVL as compared to the placebo [
157
]. Positive effects on PBVC are replicated in one active comparator trial [BRAVO] versus im IFN-β-1a [
158
,
159
]. At present, the agent is further investigated in RRMS [CONCERTO] and PPMS patients [ARPEGGIO].
Cladribine, an antiproliferative agent that takes effect by interfering with DNA synthesis, has shown significant effects in terms of relapse rate and disability progression [
160
,
161
]. Data from CLARITY study suggested that at 18 months, patients treated with cladribine had 20%reduction in brain atrophy compared with patients receiving placebo [
162
]. However, further studies are needed, in order to cladribine's effect on brain atrophy rates, be fully elucidated [
161
,
163
,
164
].
Conclusions
MS is an evolving disease, now considered of both inflammatory and neurodegenerative nature [
165
–
168
]. Axonal injury and loss accounting for brain atrophy may be either acute (i.e. due to inflammation) or chronic/late due to pathogenic mechanisms primed by the preceding inflammation and later perpetuating with disease progression [
169
–
171
]. Brain atrophy occurs as early as CIS, progresses faster than it does in healthy adults, and is the best predictor of future disability, physical and cognitive [
166
,
172
]. It is widely accepted to be a valid, sensitive and reproducible measure of neuroprotection in MS research studies and therapeutic trials.
There is now a variety of approved DMDs, with secondary neuroprotective properties, and an even greater number of novel compounds, in various stages of development and investigation. A firm belief remains that for a therapy to be effective in delaying the disease progression, its impact on axon and neuronal survival needs to be monitored. Conventional MRI findings (T1-hypotensive or T2 hypertensive lesion load) have already shown their limits for monitoring the disease burden and progression in MS patients. Newly introduced sophisticated imaging methods hold promise for the future of the clinical surveillance of the disease. Trials incorporating brain atrophy in their endpoints are providing accumulating evidence that rises substantial hopes for treating neurodegeneration in the near future.
Acknowledgements
Not applicable
Ethics approval and consent to participate
Compliance with ethical standards. Human and animal rights: This article does not contain any studies with animals performed by any of the authors. This article does not require informed consent due to the lack of human participants.
Consent for publication
This article does not require informed consent due to the lack of human participants.
Competing interests
The authors declare that they have no competing interests.
Open Access
This article is distributed under the terms of the Creative Commons Attribution 4.0 International License (
http://​creativecommons.​org/​licenses/​by/​4.​0/​
), which permits unrestricted use, distribution, and reproduction in any medium, provided you give appropriate credit to the original author(s) and the source, provide a link to the Creative Commons license, and indicate if changes were made.
Publisher's Note
Springer Nature remains neutral with regard to jurisdictional claims in published maps and institutional affiliations.