01.12.2017 | Case report | Ausgabe 1/2017 Open Access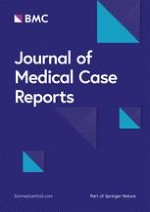 Breast and pleuropulmonary metastasis of multirecurrent scalp dermatofibrosarcoma protuberans: a case report
Zeitschrift:
Autoren:

N.-A. Ouédraogo Nde, N. A. Ouédraogo, H. A. Bambara, B. M. A. Tiemtoré-Kambou, F. Traoré, N. Zongo, M. S. Ouédraogo, G. P. Tapsoba, Achach Thouraya Chtioui, A. Lamien/Sanou
Abstract
Background
Dermatofibrosarcoma protuberans is a rare tumor, representing about 0.1% of skin malignant tumors. It is characterized by local aggressiveness with significant potential for recurrence. Although metastasis is rare, it does occur. We report a case of a Burkinabe woman with dermatofibrosarcoma protuberans.
Case presentation
A 27-year-old Burkinabe woman consulted our institution for a recurrent scalp nodule that had been evolving for 13 years. At clinical examination, she was in good condition with a dry cough. An atrophic scarring alopecic plaque of 15-cm diameter in the right parietal region of the scalp, topped by an erythematous firm nodule measuring 3 × 2 × 2 cm, was noted, as well as a mobile nodule located in the axillary tail of the right breast. Cerebral computed tomodensitometry had not objectified the reach of the vault or the brain. A thoracic scan revealed four intrathoracic tissue masses straight to pleural touch. There were no evolutionary lesions in the abdominopelvic region. Histopathologic examination of the biopsy of the scalp nodule showed a proliferation of fibrous background, with fusiform cells carrying a storiform appearance. These cells had dark, elongated nuclei and showed some mitosis without atypia. The cells expressed CD34 intensely and diffusely. The test results were negative for PS100 and smooth muscle actin. The breast nodule showed the same profile as the scalp nodule.
Conclusions
We concluded on the diagnosis of scalp dermatofibrosarcoma protuberans with breast metastasis and probable pleuropulmonary metastasis.