01.12.2017 | Case report | Ausgabe 1/2017 Open Access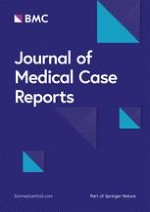 Breast metastasis from squamous cell carcinoma of the oropharynx: a case report
Zeitschrift:
Autoren:

Raffaele Longo, Emmanuelle Melgar, Marco Campitiello, Francesca Plastino, Nada Eid, Isabelle Quirin, Laurent Hennequin, Yves Grignon, Michel Gunther, Philippe Quétin
Abstract
Background
Breast metastases from extramammary tumors are extremely rare, the most common primary tumors being contralateral breast carcinoma, followed by lung, gynecological, gastrointestinal, melanoma, and hematological cancers. Only a few cases deriving from head and neck squamous cell carcinoma have been reported in the literature to date.
Case presentation
We report a case of a 47-year-old Caucasian woman who presented to our hospital with a solitary breast lesion in the right upper external quadrant associated with multiple bone and visceral metastases. Two years before, she had undergone radical resection of a squamous cell carcinoma of the oropharynx (stage pT2, pN1), which was followed by adjuvant radiotherapy. Breast ultrasound showed a hypoechogenic tumor lesion of 4 cm in the right upper external quadrant that was associated with multiple axillary and infra-/supraclavicular adenopathies. A positron emission tomographic scan documented multiple visceral and bone metastases with a single hypermetabolic lesion of the right breast. The results of histology and immunohistochemistry were consistent with a metastasis from a squamous cell carcinoma. The patient died of acute respiratory insufficiency 1 month after her breast metastasis diagnosis and before starting any systemic antitumoral treatment.
Conclusions
Although breast metastases are extremely rare, they should be considered in any patient with a history of cancer and confirmed by histology and immunohistochemistry because they are very difficult to distinguish from other primary breast tumors based only on clinical and radiological features. There are no standardized treatment guidelines for breast metastasis management. Surgery and radiotherapy can play a role in symptom palliation, but they do not have any relevant impact on survival, the prognosis being poor, with an estimated overall survival less than 1 year from diagnosis.