01.06.2014 | Original Paper | Ausgabe 6/2014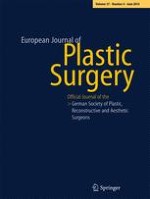 Breast reconstruction by tissue expander after radiotherapy: When the skin does not expand, the rib cage is at risk
Zeitschrift:
Autoren:

Harith Alani, Sulaiman Shantour
Abstract
Background
Expander-based breast reconstructions in irradiated chest walls have been documented to result in an increased risk of complications including skin necrosis, extrusion, displacement, and capsule contracture. In this article, thoracic cage deformity and rib fractures were investigated following breast reconstruction by tissue expansion.
Methods
A prospective series of 89 immediate postmastectomy tissue expander breast mound reconstructions in 81 patients, the patients were divided into two groups, reconstruction with radiotherapy (
n
 = 37) and without radiotherapy (
n
 = 52). The patients were observed for any sudden severe pain and development of capsule contracture; intraoperative assessment was done first during expander insertion then after exchange of expander with implant to detect any deformity of the chest wall. CT scans were done as an objective way to support the clinical findings in patients who developed flat or concave chest wall deformities.
Results
Patients who had reconstructions with radiotherapy developed severe capsular contractures causing severe pain and limitation in breast expansion in 35 % of reconstructions compared with 5.7 % in the control group. Twenty-six reconstructions (70.2 %) in the study group developed chest wall deformities; in four of them, the deformity was concave, and two patients (5.4 %) developed multiple rib fractures at the expander site. The overall rate of ribcage deformities in the control group was 32.6 %; all of them were simple flattening with no concave deformities. No fractures were noted in the control group.
Conclusions
Expander-based breast reconstruction in combination with radiotherapy and tight unyielding overlying skin and capsule can redirect the expansion force toward the thoracic ribcage rather than the skin causing rib deformities and possible fractures.
Level of Evidence: Level IV, risk/prognostic study