01.12.2018 | Research | Ausgabe 1/2018 Open Access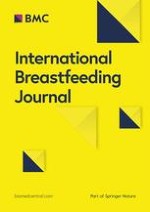 Breastfeeding technique and associated factors among breastfeeding mothers in Harar city, Eastern Ethiopia
Zeitschrift:
Autoren:

Getahun Tiruye, Firehiwot Mesfin, Biftu Geda, Kasiye Shiferaw
Abstract
Background
Ineffective breastfeeding technique is one of the factors contributing to mothers practicing non-exclusive breastfeeding. Inappropriate breastfeeding technique is the leading cause of nipple pain in Ethiopia, as in other countries. However, no studies have examined breastfeeding technique and associated factors in eastern Ethiopia. Therefore, this study was conducted with the aim of assessing breastfeeding technique and associated factors among breastfeeding mothers.
Method
We conducted an institution based cross-sectional study in selected governmental health facilities of Harar city, Eastern, Ethiopia, from January to February 2017. Systematic random sampling technique was used to select 422 study participants. Data were collected using pretested observational checklist and interviewer administered questionnaires containing sociodemographic, maternal and infant characteristics. The variables, positioning, attachment and suckling, were used to assess the outcome variable of breastfeeding technique. Descriptive, bivariate and multivariate logistic regression analysis was done to identify independent predictors of BFT after controlling for confounding variables.
Result
The proportion of mothers practicing an effective breastfeeding technique was 43.4% (179/412). Effective breastfeeding technique was 2.3 times more common among mothers with at least secondary school educational status compared to mothers with no formal education (Adjusted Odds Ratio [AOR] 2.3; 95% Confidence Interval [CI] 1.1, 3.9). The practice of effective breastfeeding technique was significantly associated with mothers who had immediate breastfeeding technique counseling after birth (AOR 1.7, 95% CI 1.1, 2.8) and at least two postnatal visits (AOR 5.9; 95% CI 2.1, 15.9) compared to one visit. Absence of breast problems and having previous breastfeeding experience were also associated with the likelihood of effective breastfeeding technique practice (AOR 4.0; 95% CI 1.4, 10.9) and (AOR 3.3; 95% CI 1.1, 10.7) respectively.
Conclusion
The practice of effective breastfeeding technique was low. Effective breastfeeding technique practice was associated with higher educational status, previous information about breastfeeding technique, previous breastfeeding experience, absence of breast problems, receiving breastfeeding technique counseling immediately after birth and at least two postnatal visits. Therefore; health services should provide education about effective breastfeeding techniques and ensure postnatal care for all women, particularly primipara.