01.12.2018 | Research article | Ausgabe 1/2018 Open Access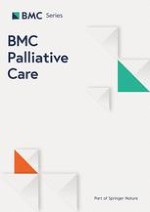 Bridging gaps in everyday life – a free-listing approach to explore the variety of activities performed by physiotherapists in specialized palliative care
Zeitschrift:
Autoren:

U. Olsson Möller, K. Stigmar, I. Beck, M. Malmström, B. H. Rasmussen
Abstract
Background
A growing body of studies indicate benefits of physiotherapy for patients in palliative care, for symptom relief and wellbeing. Though physiotherapists are increasingly acknowledged as important members of palliative care teams, they are still an underutilized source and not fully recognized. The aim of this study was to explore the variety of activities described by physiotherapists in addressing the needs and problems of patients and their families in specialized palliative care settings.
Methods
Using a free-listing approach, ten physiotherapists working in eight specialized palliative care settings in Sweden described as precisely and in as much detail as possible different activities in which patients and their families were included (directly or indirectly) during 10 days. The statements were entered into NVivo and analysed using qualitative content analysis. Statements containing more than one activity were categorized per activity.
Results
In total, 264 statements, containing 504 varied activities, were coded into seven categories: Counteracting a declining physical function; Informing, guiding and educating; Observing, assessing and evaluating; Attending to signs and symptoms; Listening, talking with and understanding; Caring for basic needs; and Organizing, planning and coordinating. In practice, however, the activities were intrinsically interwoven. The activities showed how physiotherapists aimed, through care for the body, to address patients' physical, psychological, social and existential needs, counteracting the decline in a patient's physical function and wellbeing. The activities also revealed a great variation, in relation not only to what they did, but also to their holistic and inseparable nature with regard to why, how, when, where, with whom and for whom the activities were carried out, which points towards a well-adopted person-centred palliative care approach.
Conclusions
The study provides hands-on descriptions of how person-centred palliative care is integrated in physiotherapists' everyday activities. Physiotherapists in specialized palliative care help patients and families to bridge the gap between their real and ideal everyday life with the aim to maximize security, autonomy and wellbeing. The concrete examples included can be used in understanding the contribution of physiotherapists to the palliative care team and inform future research interventions and outcomes.