01.12.2017 | Research article | Ausgabe 1/2017 Open Access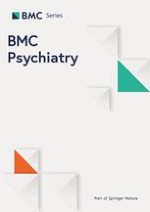 Brief reasons for living inventory: a psychometric investigation
Zeitschrift:
Autoren:

Jan Christopher Cwik, Paula Siegmann, Ulrike Willutzki, Peter Nyhuis, Marcus Wolter, Thomas Forkmann, Heide Glaesmer, Tobias Teismann
Abbreviations
BRFL
Brief Reasons for Living inventory
BRFL-10
Brief reasons for living inventory 10-item version, excluding child-related concerns
BRFL-12
Brief reasons for living inventory 12-item version
BRFL-CC
Brief reasons for living inventory "child-related concerns" factor
BRFL-FS
Brief reasons for living inventory "fear of suicide" factor
BRFL-MO
Brief reasons for living inventory "moral objection" factor
BRFL-RF
Brief reasons for living inventory "responsibility to family" factor
BRFL-SC
Brief reasons for living inventory "survival and coping beliefs" factor
BRFL-SD
Brief reasons for living inventory "fear of social disapproval" factor
DSI-SS
Depressive symptom inventory – suicidality subscale
INQ-PB
Interpersonal needs questionnaire - perceived burdensomeness subscale
KMO
Kaiser-meyer-olkin measure of sampling adequacy
PCA
Principal component analysis
PHQ-9
Patient health questionnaire – depression module
PMH
Positive mental health scale
RFL
Reasons for living inventory
VIF
Variance inflation factor
Background
Methods
Participants
Data was derived from two samples in Germany.
Sample 1 (Online Sample)
: The first sample was a community sample of
N
 = 339 participants of which
n
 = 261 (77%) were female and
n
 = 78 (23%) were male. Age ranged from 18 to 77 years, with a mean of 30.84 (
SD
 = 12.82). Thirty-five participants (10.4%) had a suicide ideation score > 3 (measured with the Depressive Symptom Inventory – Suicidality Subscale, DSISS; [
18
]), which is the proposed cut-off score for serious suicide ideation. All participants were Caucasian. About 57% (
n
 = 195) were students.
Sample 2 (clinical sample)
: The second sample comprised
N
 = 272 patients either being treated in a psychiatric inpatient unit (38.2%,
n
 = 104) or an outpatient psychotherapeutic clinic (61.8%;
n
 = 168). Of Sample 2, 170 participants (62.5%) were female and
n
 = 102 (37.5%) were male. The mean of age was 40.43 years (
SD
 = 12.86) ranging from 19 to 72. The most common diagnoses according to the International Classification of Diseases (ICD-[
10
,
19
]) were affective disorders (51.1%), as well as neurotic, stress-related, and somatoform disorders (32.4%), followed by behavioral syndromes associated with physiological disturbances and physical factors (6.3%), personality disorders (4%), substance abuse (2.6%), psychotic disorders (1.1%) and other disorders (2.6%). Seventy-eight patients (29.3%) had a DSISS-score > 3 (with data on suicide ideation missing from seven patients). All participants were Caucasian.
Prior to assessments, the participants were informed about the purpose of the study, the voluntary nature of their participation, data storage and security. They gave written informed consent before participating. The study was approved by the responsible Ethics Committee.
Procedure
Sample 1 (online Sample)
was recruited between June 2016 and January 2017. Students at two universities in the Ruhr-region in Germany were approached and informed about receiving course credit for their participation. Furthermore, participants could share the link to the survey with others. The online survey was completed anonymously. The survey was programmed so that one could only proceed to the next questionnaire once all prior questions had been answered. Nonetheless, it was possible to quit the study at any time. All participants in Sample 1 were provided with information for receiving help in case of acute suicidality. Information about the national crisis hotline was given and also the offer to get in touch with the Centre for Psychotherapy of the Ruhr-Universität Bochum for support.
Sample 2 (clinical sample)
was recruited between April 2016 and January 2017. Participants of this sample either underwent psychotherapy at a university outpatient clinic or at an inpatient psychiatric hospital in the Ruhr region in Germany. If inpatients had agreed to participate, questionnaires were presented in a paper-pencil version. No information on their identity was collected. The physician or therapist in charge of the patient's treatment provided information on patient diagnoses. If outpatients had agreed to participate, they were asked to fill out the questionnaires online on a computer. All questions had to be answered in order to proceed to the next questionnaire. All participants of the clinical sample already received therapeutic help. Therefore, participants were informed to turn to the respective therapist in charge in case of suicidal thoughts or impulses.
Measures
Statistical analyses
In order to test the psychometric properties of the BRFL, an item analysis and a confirmatory factor analysis (CFA) were conducted. Considering the fact that only participants with children (
n
 = 237) were able to answer Item 4 ("I want to watch my children as they grow") and Item 7 ("The effect on my children could be harmful"), we decided to conduct all analyses for the six-factor model for those participants who had children, followed by analyses testing the five-factor model excluding the factor "child-related concerns" for the whole sample. To determine the fit of the six-factor and the five-factor solutions of the BRFL inventory, several goodness of fit indices were extracted for assessing the model fit: the relative χ2 (χ2/df), the root-mean-square-error-of-approximation (RMSEA) including the 90% confidence interval (90%-
CI
), the comparative-fit-index (CFI), the Tucker–Lewis index (TLI), and the standardized root-mean-square residual (SRMR). According to Hu and Bentler [
33
] and Hair et al. [
34
], cut-off values can be interpreted as follows: for the relative χ2, a value of <3 indicates a good model fit [
35
,
36
]. RMSEA values of < .05 indicate a good model fit, whereas values between < .08 and > .05 can be seen as reasonable fit [
37
]. In case of the CFI and the TLI, values > .90 are indicators of an adequate fit, whereas values > .95 indicate a good fit [
33
,
38
]. To represent a good model fit, SRMR values should be < .09 [
34
].
McDonald's ω was calculated to determine the internal consistencies of the BRFL and subscales [
22
–
24
]. Results of the Kolmogorov-Smirnov-test [
39
,
40
] illustrated that all items were not normally distributed, so that construct validity was tested via Spearman's rank correlation analyses between the scales of the BRFL and the criterion measures. Group differences in BRFL scores between participants without suicide ideation (DSI-SS = 0) and participants with suicide ideation (DSI-SS ≥ 1) were tested with Mann-Whitney-U-Tests.
Finally, hierarchical regression analyses were conducted to examine whether reasons for living (BRFL-12 and BRFL-10) moderated the association between depression and suicide ideation. The variables were entered in four steps: In the first step of these analyses, group (clinical, online), age, and gender were entered as covariates. In the second step, depression severity – measured with the PHQ-9 excluding the suicidality item (Item 9) – was entered. In the third step, reasons for living – as measured with the BRFL-12 or BRFL-10 inventory – were included. In the final step, the interaction term of depression and reasons for living was entered. If the interaction term adds significant predictive variance to the regression model, it indicates a moderating effect of reasons for living on the association between depression and suicide ideation [
41
]. The magnitude of the interaction effect was assessed by the change in corrected
R
2
(Δ
R
2
).
Diagnostics of multicollinearity revealed high multicollinearity (variance inflation factor (VIF) > 10 and/or tolerance coefficient < .2; see [
33
,
34
,
42
]) between PHQ-9 (VIF = 18.58, tolerance = .05) as well as the interaction between PHQ-9 and BRFL (VIF = 18.55, tolerance = .05) and other predictors. Thus, all continuous predictor variables were mean centered [
43
,
44
], so that the lowest tolerance coefficient was .391, with a highest VIF of 2.556. Data analysis was conducted by using the statistic software program R [
45
], and its package lavaan (Version 0.5–23.1097) [
46
].
Results
Discussion
Despite these limitations, the current results provide preliminary evidence that the BRFL may be a reliable and valid measure of adaptive reasons for living that could be used in clinic and research settings. Clinically, it can be used as an assessment as well as an intervention technique. As such, it might be used to identify protective themes that are most important to a person contemplating suicide. Clinicians might then focus on these themes with the intent of building for the future through the strengthening of life-oriented cognitions.
Acknowledgements
The authors would like to thank Thomas Manekeller for his support in the data collection.
Funding
The study was not funded by any granting agency. Jan C. Cwik's position was funded by an Alexander von Humboldt professorship, awarded to Jürgen Margraf. We acknowledge support by the DFG Open Access Publication Funds of the Ruhr-Universität Bochum.
Availability of data and materials
All relevant data are reported within the paper. Analyzed data are available from the corresponding author on reasonable request.
Ethics approval and consent to participate
All participants provided written informed consent. Furthermore, all procedures performed in studies involving human participants were in accordance with the ethical standards of the institutional and/or national research committee and with the 1964 Helsinki declaration and its later amendments or comparable ethical standards and all study procedures where approved by the regional Ethics Committee of the Ruhr-Universität Bochum.
Consent for publication
Not applicable.
Competing interests
All authors declare that they have no competing interest.
Publisher's Note
Springer Nature remains neutral with regard to jurisdictional claims in published maps and institutional affiliations.
Open Access
This article is distributed under the terms of the Creative Commons Attribution 4.0 International License (
http://​creativecommons.​org/​licenses/​by/​4.​0/​
), which permits unrestricted use, distribution, and reproduction in any medium, provided you give appropriate credit to the original author(s) and the source, provide a link to the Creative Commons license, and indicate if changes were made. The Creative Commons Public Domain Dedication waiver (
http://​creativecommons.​org/​publicdomain/​zero/​1.​0/​
) applies to the data made available in this article, unless otherwise stated.