01.12.2015 | Research article | Ausgabe 1/2015 Open Access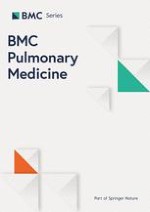 Bronchiectasis diagnosed after renal transplantation: a retrospective multicenter study
Zeitschrift:
Autoren:

Sandra Dury, Charlotte Colosio, Isabelle Etienne, Dany Anglicheau, Elodie Merieau, Sophie Caillard, Joseph Rivalan, Eric Thervet, Marie Essig, François Babinet, Jean-François Subra, Olivier Toubas, Philippe Rieu, Claire Launois, Jeanne-Marie Perotin-Collard, François Lebargy, Gaëtan Deslée, on behalf of the Spiesser group
Wichtige Hinweise
Competing interests
The authors declare that they have no competing interests.
Authors' contributions
Participated in research design: SD, FL, GD. Participated in the writing of the paper: SD, FL, GD. Participated in the performance of the research: SD, SC, IE, DA, EM, SC, JR, ET, ME, FB, JFS, OT, PR, CL, JMP, FL, GD. Participated in data analysis: SD, OT, FL, GD. All authors read and approved the final manuscript.
Abstract
Background
Bronchiectasis is characterized by abnormal, permanent and irreversible dilatation of the bronchi, usually responsible for daily symptoms and frequent respiratory complications. Many causes have been identified, but only limited data are available concerning the association between bronchiectasis and renal transplantation.
Methods
We conducted a retrospective multicenter study of cases of bronchiectasis diagnosed after renal transplantation in 14 renal transplantation departments (French SPIESSER group). Demographic, clinical, laboratory and CT scan data were collected.
Results
Forty-six patients were included (mean age 58.2 years, 52.2 % men). Autosomal dominant polycystic kidney disease (32.6 %) was the main underlying renal disease. Chronic cough and sputum (50.0 %) were the major symptoms leading to chest CT scan. Mean duration of symptoms before diagnosis was 1.5 years [0–12.1 years]. Microorganisms were identified in 22 patients, predominantly
Haemophilus influenzae
. Hypogammaglobulinemia was observed in 46.9 % patients. Bronchiectasis was usually extensive (84.8 %). The total bronchiectasis score was 7.4 ± 5.5 with a significant gradient from apex to bases. Many patients remained symptomatic (43.5 %) and/or presented recurrent respiratory tract infections (37.0 %) during follow-up. Six deaths (13 %) occurred during follow-up, but none were attributable to bronchiectasis.
Conclusions
These results highlight that the diagnosis of bronchiectasis should be considered in patients with
de novo
respiratory symptoms after renal transplantation. Further studies are needed to more clearly understand the mechanisms underlying bronchiectasis in this setting.