01.12.2014 | Original Article | Ausgabe 6/2014 Open Access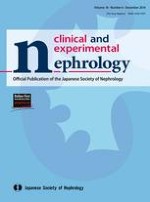 Budget impact analysis of chronic kidney disease mass screening test in Japan
Zeitschrift:
Autoren:

Masahide Kondo, Kunihiro Yamagata, Shu-Ling Hoshi, Chie Saito, Koichi Asahi, Toshiki Moriyama, Kazuhiko Tsuruya, Tsuneo Konta, Shouichi Fujimoto, Ichiei Narita, Kenjiro Kimura, Kunitoshi Iseki, Tsuyoshi Watanabe
Wichtige Hinweise
On behalf of the Japanese Society of Nephrology Task Force for the Validation of Urine Examination as a Universal Screening.
Abstract
Background
Our recently published cost-effectiveness study on chronic kidney disease mass screening test in Japan evaluated the use of dipstick test, serum creatinine (Cr) assay or both in specific health checkup (SHC). Mandating the use of serum Cr assay additionally, or the continuation of current policy mandating dipstick test only was found cost-effective. This study aims to examine the affordability of previously suggested reforms.
Methods
Budget impact analysis was conducted assuming the economic model would be good for 15 years and applying a population projection. Costs expended by social insurers without discounting were counted as budgets.
Results
Annual budget impacts of mass screening compared with do-nothing scenario were calculated as ¥79–¥−1,067 million for dipstick test only, ¥2,505–¥9,235 million for serum Cr assay only and ¥2,517–¥9,251 million for the use of both during a 15-year period. Annual budget impacts associated with the reforms were calculated as ¥975–¥4,129 million for mandating serum Cr assay in addition to the currently used mandatory dipstick test, and ¥963–¥4,113 million for mandating serum Cr assay only and abandoning dipstick test.
Conclusions
Estimated values associated with the reform from ¥963–¥4,129 million per year over 15 years are considerable amounts of money under limited resources. The most impressive finding of this study is the decreasing additional expenditures in dipstick test only scenario. This suggests that current policy which mandates dipstick test only would contain medical care expenditure.