01.12.2017 | Research article | Ausgabe 1/2017 Open Access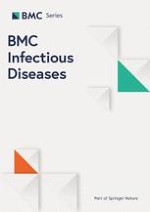 Burden and spectrum of bacterial infections among sickle cell disease children living in Cameroon
Zeitschrift:
Autoren:

Anastasie Nicole Alima Yanda, Jobert Richie N. Nansseu, Hubert Désiré Mbassi Awa, Sandra A. Tatah, Judith Seungue, Charlotte Eposse, Paul Olivier N. Koki
Abstract
Background
Although sickle cell disease (SCD) children are highly susceptible to bacterial infections (BIs), there is a dreadful lack of data related to the burden and spectrum of BIs in sub-Saharan Africa (SSA), the highest affected region with SCD. This study aimed to determine the burden and spectrum of BIs among SCD children hospitalized in a pediatric reference hospital in Cameroon, a SSA country.
Methods
We conducted a retrospective analysis of records of children hospitalized from November 2012 to August 2015 in the SCD unit of the Mother and Child Centre of the Chantal Biya Foundation, Cameroon. We enrolled all known SCD children aged 15 years or less, hospitalized for a suspicion of BI and who presented a positive culture of a body specimen.
Results
A total of 987 SCD children were hospitalized during the study period. Cultures were positive for 96 patients (9.7%) among whom 60.4% males. Ages ranged from 6 to 192 months with a median of 53 (Interquartile range (IQR) 21–101) months. For children no more covered by the Expanded Programme on Immunization, only 13 (18.8%) had received the Pneumo 23® and Meningo A&C® antigens, and 12 (17.4%), the Typhim vi® and the
Haemophilus influenzae
type b antigens; 58 children (84.1%) had received no vaccine. The specimen yielding positive cultures were: blood (70.7%), urine (13.1%), pus (9.1%), synovial fluid (4.1%), cerebrospinal fluid (2.0%), and bone fragment (1.0%). The different types of infection included: urinary tract infections (13.5%), myositis (8.3%), arthritis (6.3%), osteomyelitis (4.2%), and meningitis (2.1%); the site of infection was unidentified in 65.6% of cases. The main bacteria included:
Salmonella sp.
(28.1%),
Staphylococcus sp.
(18.8%),
Klebsiella pneumoniae
(17.7%),
Escherichia coli
(10.4%),
Enterobacter sp.
(5.2%),
Acinetobacter sp.
(4.2%),
Streptococcus sp.
(4.2%) and
Serratia sp.
(4.2%).
Conclusion
This retrospective analysis revealed 9.7% cases of BIs, mainly caused by
Salmonella sp.
(28.1%),
Staphylococcus sp.
(18.8%),
Klebsiella pneumoniae
(17.7%), and
Escherichia coli
(10.4%).