01.12.2016 | Research article | Ausgabe 1/2016 Open Access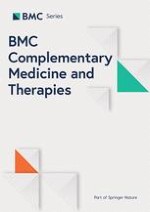 Buyang Huanwu Decoction attenuates H2O2-induced apoptosis by inhibiting reactive oxygen species-mediated mitochondrial dysfunction pathway in human umbilical vein endothelial cells
Zeitschrift:
Autoren:

Jian Shen, Yu Zhu, Kaiyuan Huang, Hao Jiang, Chengzhang Shi, Xiaoxing Xiong, Renya Zhan, Jianwei Pan
Abstract
Background
Apoptosis of endothelial cells caused by reactive oxygen species plays an important role in ischemia/reperfusion injury after cerebral infarction. Buyang Huanwu Decoction (BYHWD) has been used to treat stroke and stroke-induced disability, however, the mechanism for this treatment remains unknown. In this study, we investigated whether BYHWD can protect human umbilical vein endothelial cells (HUVECs) from H2O2-induced apoptosis and explored the underlying mechanisms.
Methods
To investigate the effect of BYHWD on the apoptosis of HUVECs, we established a H2O2-induced oxidative stress model and detected apoptosis by Hoechst 33342 and propidium iodide staining. JC-1 and DCFH-DA assays,western blotting and electron microscopy were used to examine the mechanism of BYHWD on apoptosis.
Results
Pretreatment with BYHWD significantly inhibited H2O2-induced apoptosis and protein caspase-3 expression in a concentration-dependent manner. In addition, BYHWD reduced reactive oxygen species production and promoted endogenous antioxidant defenses. Furthermore, loss of mitochondrial membrane potential and structural disruption of mitochondria were both rescued by BYHWD.
Conclusions
BYHWD protects HUVECs from H2O2-induced apoptosis by inhibiting oxidative stress damage and mitochondrial dysfunction. These findings indicate that BYHWD is a promising treatment for cerebral ischemia diseases.